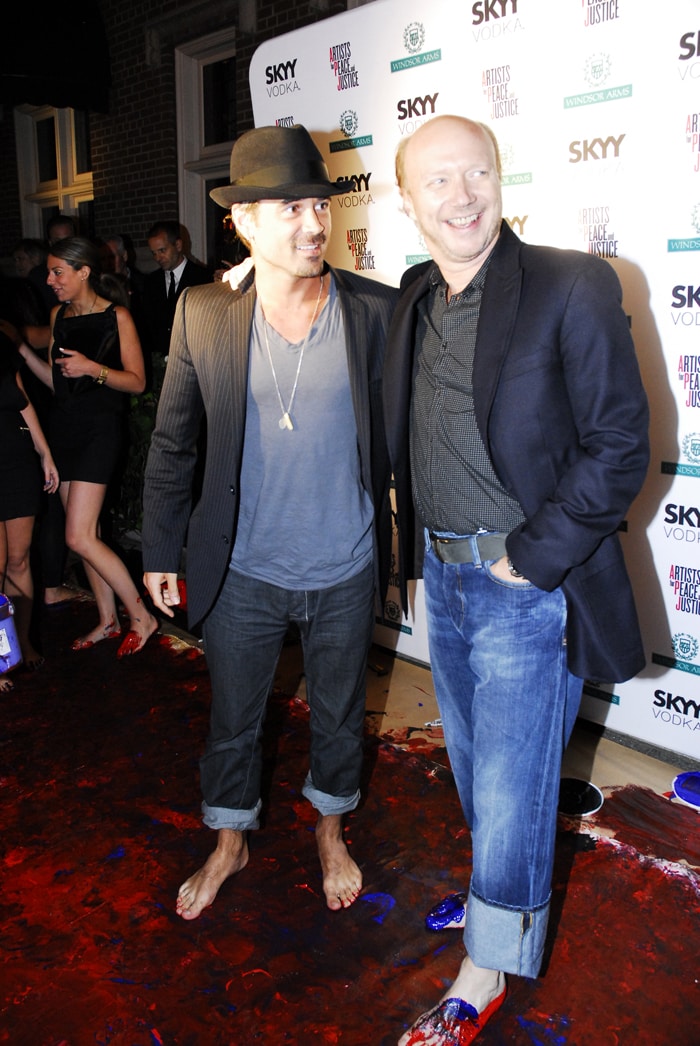 PHOTO: Colin Farrell and Paul Haggis at the live art installation at the first APJ gala during TIFF in September 2009.
Artists for Peace and Justice (APJ) is a charity created by Academy Award winning filmmaker, Paul Haggis to serve children and their families in the poorest communities in Haiti with programs focused on education, health and dignity. Natasha is on the Board of Directors and NKPR has supported with PR and events since APJ's beginning in 2009.
The inaugural APJ gala took place at the Windsor Arms during the Toronto International Film Festival in September 2009, just before the devastating earthquake in Haiti when many people still didn't really know much about the country.
On arrival, guests were greeted by a live art installation by New York pop artist Peter Tunney where, in lieu of the standard red carpet they were asked to dip their feet in red paint and walk on a canvas signifying that we can all do something "one step at a time".  At the end of the "carpet" we set up pedicure stations for the participating guests. In total, NKPR helped raise $50,000 with this event.
Six months later, the earthquake hit focusing the world's attention on Haiti.
Since 2009, NKPR has helped raise over $30 million dollars towards education and healthcare in Haiti. APJ built the Academy for Peace and Justice which is the only middle and secondary school of its kind in Haiti, providing dignified education to the poorest and most deserving youth in the city of Port-au-Prince.
The Academy has grown each year, reaching full capacity in 2016 with 2,800 students. In June 2016, the Academy saw its first graduating class.
SHARE
Tweet