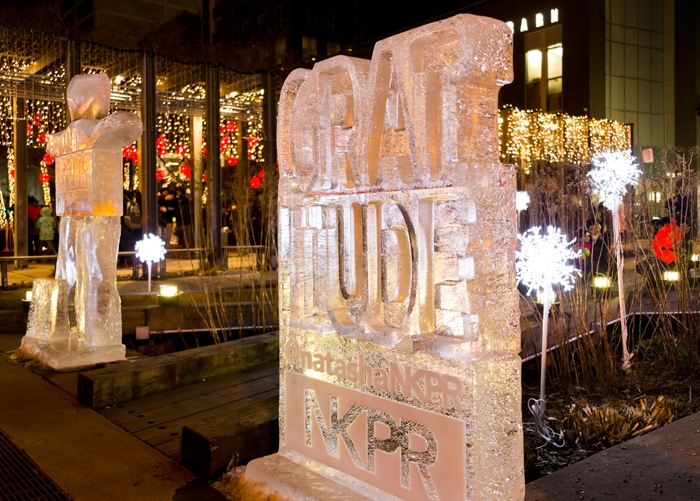 PHOTO: NKPR sponsored sculpture at the Bloor-Yorkville Icefest 2016 in support of Heart & Stroke Foundation.
Since 2007, NKPR has been the agency of record for the Bloor-Yorkville Business Improvement Area (BYBIA). Briar de Lange, Executive Director, Bloor-Yorkville BIA shares her thoughts and memories of Natasha and the team from over the years:
"What do I say about a woman who only wears black, has her spring wardrobe shopping done in February, doesn't drink alcohol, can curse like a trucker, but likes sweets, dogs and gives great hugs….hmm, can I trust her? Well… yes I can, and having known Natasha, Bunmi and many team members at NKPR for a long time, my favourite memory was when we first met. Natasha said that her philosophy was that she had to believe in her client's service or product in order to act on their behalf or represent them. She used FIJI Water as an example at the time, but has many more since then. She is not in the business of selling what should not be sold.
The overall motto/slogan for NKPR is 'Don't just talk – say something'. I live by that standard myself – in this world of chatter, if you want to send a message – make it matter. Thank you NKPR for many years of amazing service!"
SHARE
Tweet