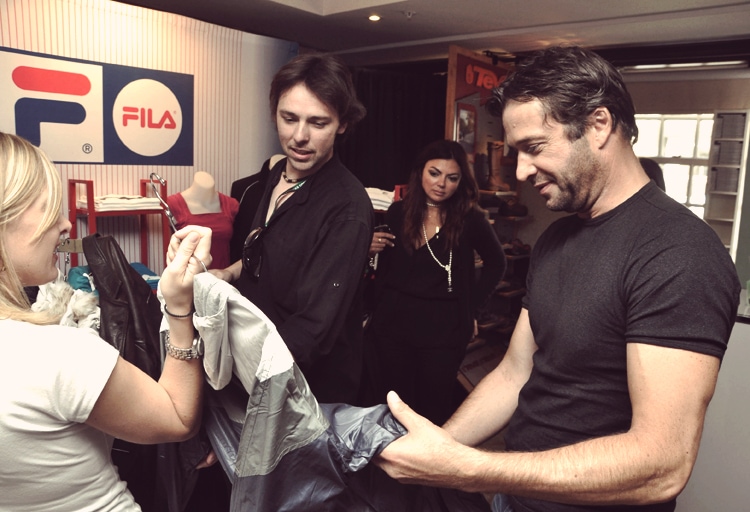 PHOTO: Natasha introduces James Purefoy to FILA at the 2007 IT Lounge.
Kathryn Hicks Director of Marketing at Springfree Trampoline Inc. (formerly of Fila) remembers the early days of the IT Lounge:
"I was lucky enough to have worked with NKPR during the time Natasha was creating the concept of the IT Lounge. I was one of the first clients to encourage her that is was a great idea and that I would participate with one of the brands NKPR represented. It was a lot of work, there were many lessons to be learned during the first few years as Natasha perfected the execution. We had many laughs….and I think a few tears.
The most memorable time was one year at the Windsor Arms (2nd or 3rd year?), my company had the entire back wall – it was the first thing celebrities and media saw when they walked into the room. I wanted it to be perfect for the IT Lounge – so we hired someone to design and manufacture a structure that would accommodate our apparel and footwear created specifically to the space. Both Natasha and I worked really hard on the design.
The night of move-in day arrived; and it all went sideways. The structure (made of steel) was too large to fit in the elevator to the second floor, it was poorly made – it was a hot mess. I'm not sure how we got through that night – we stayed up ALL night as we tried to salvage what we could. We distracted the hotel security and hoisted part of the structure over a second floor banister…..I remember trying to catch 20 mins of sleep out in the hotel hallway thinking I was going to get fired for this disaster as the NKPR team ran around me trying to find a solution. The following day was media day and all the stress and hard work was worth it – we pulled it together and nobody ever knew how close we came to ruining the IT Lounge experience!
That's why NKPR is so successful and I'm so proud to congratulate them on 15 years. Natasha and her team treat their clients as friends. Not only are they all exceptionally talented, they are kind and will go above and beyond for their clients. I consider Natasha a dear friend to this day, I'm so very proud of what she has built."
SHARE
Tweet