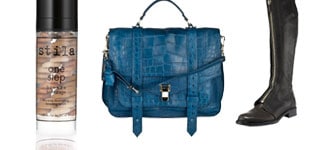 This week, Beyonce ignited a bit of controversy (and NKPR discussion) with her $14,000 London shopping spree.
We all had to know: "If you had $14,000 and 90 minutes, where would you shop and what would you buy?" Since Beyonce went international, it gave us free reign to fantasize about our ultimate shopping destination.
Ignoring the 90-minute time limit altogether, Cat said she'd fly to Spain to eat at the famous El Bulli restaurant.
Heather also had the travel bug, and said she'd scoot off to Les Puces market in Paris to discover new treasures.
It's no surprise New York was also a preferred shopping spree destination.
Laycee said she'd hit up Saks for shoes and summer dresses, and the Sephora flagship to buy a few dozen cosmetic bags worth of Stila makeup.
Since Lauren is jet-setting to NYC this weekend, she's planning to buy out the shoe department at Bergdorf Goodman with her imaginary $14,000. "Starting with these Front-Zip Riding Boots by Givenchy. I work in long lead times, so I'm already thinking about Fall!"
Ever the multi-tasker, Rebecca would divide her time up at Barney's:
"Thirty minutes in shoes (stocking up on Prada Fall/Winter 2012 Velvet and Leopard Print delights, Rag & Bone Tough Girl Boots and electric McQueen pumps), 45 minutes in clothing (Alexander Wang, 3.1 Philip Lim, basics from The Row and maybe a Leger or two) and 15 minutes in purses (A Chanel 2.55 bag? If you insist…)"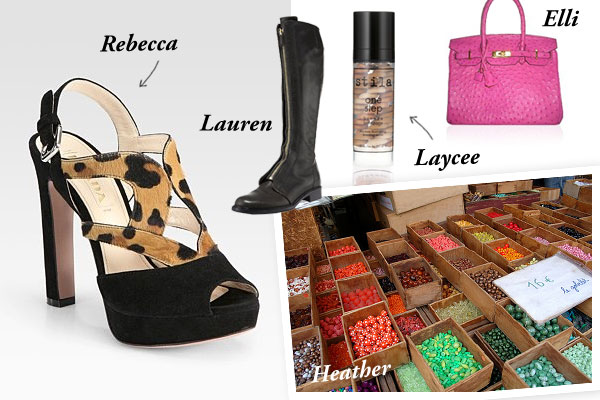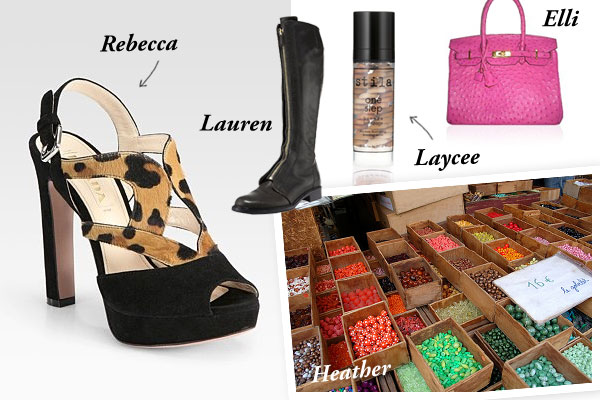 A brand new bag was also at the top of Kaley's list:
"Even with the $14,000, I'm gonna need a $500 advance on my next pay cheque to cover the cost of a Proenza Schouler PS1 in Midnight Croc. LOVE."
And Elli's too: "Paris. Hermes. A Birkin."
Reflecting her Company's commitment to give back, Natasha would turn that $14,000 into $28,000 (via an online matching dollar-for-dollar campaign, of course!) and donate half to Artists for Peace & Justice and half to Camp Oochigeas. "That way I'd get to give give back and raise awareness!"
So we want to know: where would you power shop and how would you spend $14,000? Leave a comment or tell us in a tweet!
How amazing is it when corporations come together with charities to make the world a better place? Personally, I find it so inspiring — these sorts of relationships are the reason I do what I do. So, as you can imagine, I was very happy last Friday, May 26, when Camp Oochigeas (Camp Ooch) hosted the grand opening of Ooch Downtown, the first-ever urban camp for children with cancer.
JP Arencibia and Bryan Farrell from the Toronto Blue Jays were at the event. They spent the morning meeting campers and even joined in a game of hockey on the new BMO Sportscourt. Camp Ooch Executive Director Alex Robertson along with campers from Ooch presented a cheque alongside representatives from each of Ooch's Founding Friends — BMO, Toronto Blue Jays through the Jays Care Foundation, PlayStation and Sporting Life — each of whom made generous $300,000 donations to Ooch Downtown. See? Totally inspiring!
The 18,000 square-foot centre is located at 464 Bathurst Street in downtown Toronto, only blocks away from SickKids Hospital. Ooch Downtown will provide a camp experience to children at no cost to their families who, without the convenience of a city location, may otherwise miss out on the opportunity to go to camp. What a special place!
Here are some photos from the grand opening:
I hope you're as inspired by Ooch and their Founding Friends as I am! What inspired you today? Tweet me @natashankpr.
Natasha