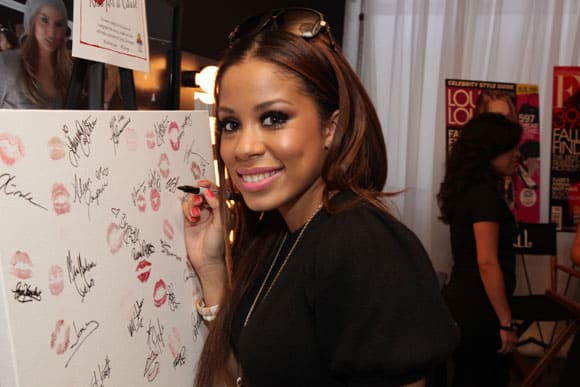 September 12, 2011, 3:26 pm
From Backstreet boy Howie D. to Toronto Blue Jays Brett Lawrie and JP Arencibia, celebs who visited the IT Lounge during the opening weekend of the film festival ate, drank and even danced inside the laidback lounge, all in support of official charities Artists for Peace and Justice (APJ) and Camp Oochigeas.
Arriving in style courtesy of car partner Mercedes-Benz, Academy Award-winning director Paul Haggis stopped by the IT Lounge for a second time on Sunday afternoon, bringing along DJ Tony Okungbowa (The Ellen Degeneres Show). Haggis chilled in the Great Gatsby-inspired lounge area created by Sealy Design Inc. DJ Tony was in town to support Artists for Peace and Justice, the charity founded by Haggis. He also spun at both TORO After Dark Benefiting APJ on Friday night, and the Academy for Peace and Justice Garden Lunch fundraiser on Saturday afternoon. Fans of DJ Tony's turntable talent, House of Marley gifted the DJ with a one-of-a-kind pair of their eco-friendly headphones.
From Backstreet to Baker Street, Howie D. indulged his sweet tooth on Crème Brûlée cheesecake and Red Velvet torte before leaving with a selection of mini handcrafted pies.
After winning their afternoon game against the Baltimore Orioles on Saturday, Toronto Blue Jays players Brett Lawrie and JP Arencibia traded in their uniforms to hit a home run in the style department, thanks to RW&CO.'s fall collection for men. Lawrie was all about accessories – and left wearing a tartan-print skinny tie and charcoal grey newsboy cap. Arencibia opted for a classic black suit and paired it with slim fitting shirt.
Actor Dean McDermott (Tori & Dean, Ecstasy) couldn't stop admiring his handsome mug in the mirror after sampling G.M. Collin's new Phyto Stem Cell+ advanced anti-aging serum, saying his skin felt really smooth.
Being Erica star Erin Karpluk stocked up on Ardell Lashes before hitting Hello! Canada's 5th anniversary red carpet and gala on Saturday night.
Always glam popstar Keshia Chanté proclaimed "Stila is the only makeup I wear!" before sitting down to have her gorgeous lips touched up by a Stila pro makeup artist. She later planted her pucker (and her autograph) on a canvas for Stila's "Kiss for A Cause" campaign. For every celebrity who visits the IT Lounge and participates, the beauty brand is donating to Camp Oochigeas, a local camp for children with cancer.
Lauren Collins (Degrassi: The Next Generation) sniffed out an edgy, graphic tee from ConScent. The scent-infused luxury shirts come in a variety of styles and Collins fell for an off-the-shoulder, orange creamsicle-scented white tee printed with Je suis un tee-shirt parfumé. Ooh la la!
Touring the IT Lounge with his mom, actor Daniel DeSanto (Breakaway) showed off his Italian heritage in a vintage-inspired Fila jacket. Fila is also donating apparel and sports equipment to Camp Oochigeas for every IT Lounge celebrity who tweets using #filagivesback during their visit.
Brunette beauty Gabrielle Miller (Corner Gas, Brothers & Sisters) tried on a few luxury handbags from Coccinelle before deciding on a classic black tote with gold hardware. The brand is making its Canadian debut at the IT Lounge.
Check out more photos from the weekend on Flickr!
Tomorrow's expected IT Lounge visitors? Adrian Grenier, Emily Blunt, Elizabeth Olsen, Danny Fernandes, JRDN, Tygh Runyan, Brad Dryborough and many more!