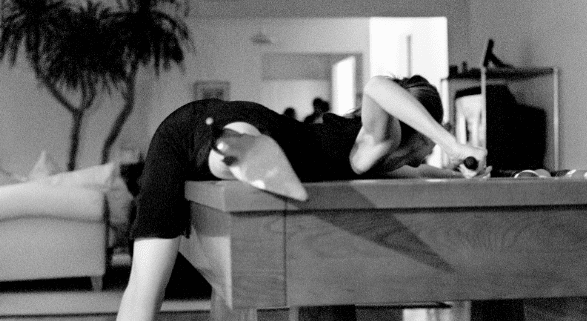 This month, British fashion and portrait photographer Mary McCartney will exhibit her work in Canada for the first time, with her debut show, Developing. McCartney will display her works at Izzy Gallery (106 Yorkville), which has featured renowned photographers such as Bert Stern, Lillian Bassman, Ellen von Unwerth, and, most recently, Albert Watson. Preparing to host the year's most hotly anticipated exhibition, Izzy Sulejmani tells us about the upcoming show, his favourite pieces, and working in gray scale.
McCartney's Developing will make its debut at Izzy Gallery Thursday, May 9, 2013.
Why did you decide to bring Mary McCartney's exhibition Developing to Izzy Gallery?
It's pretty simple: we love her work. I first saw her work maybe two or three years ago. The first picture I saw was Victoria Plays Pool [pictured above]. I think when I saw it, I went to research everything that she had done, and then slowly I started to develop a feel for her work, and it fits exactly with what we do in the gallery. We do mostly fashion photography, and Mary's work is beautiful.
If you had to describe the exhibition in one word, what would it be?
Uncontrived.
You've said before that it's extremely time-consuming to exhibit a large-scale photography show. How long has Developing been in the works?
Developing was in the works for a year. It takes six months to a year to do a show like this properly. We got Mary's pieces in December, and have been working on the final details of the show since then.
How do you decide the flow of the pieces shown in the exhibit?
It's just a feeling; there are no precise rules. I worked with Mary and her team for about a week curating the show, laying out the pieces on the floor, deciding on the flow. Then we decided which pieces would go where and how the space was going to look. We had some specific ideas. For example, we will be featuring eight medium sized old-fashioned silver gelatin photographs. They are done in a dark room, which very few people do today with the abundance of digital technology. So they are pretty special. Mary does most of her large work as 1/1, which means you will never find another one in that size. Many photographers do ten, twenty, thirty—but she does only one in large scale. They're really collector items.
Is there a large market for this kind of fashion photography in Canada?
You have to create a market. I do think there is a gap in the Canadian market for fashion photography. With every show we have done, it has created more and more interest and excitement for this genre.
Mary is known for her ability to capture a moment that gives us an insight on the subject in front of her. A very relaxed feel, that shows another side of her subjects. Is there any particular photo in the exhibit that's your favourite?
I personally love the photograph called One [pictured below]. It's a woman with one breast showing. I love the feel; it's a very industrial feel in the back. I love the amount of grey, the amount of black, the amount of white, the shading. And she's a soft girl amidst all this concrete behind her. It's beautiful.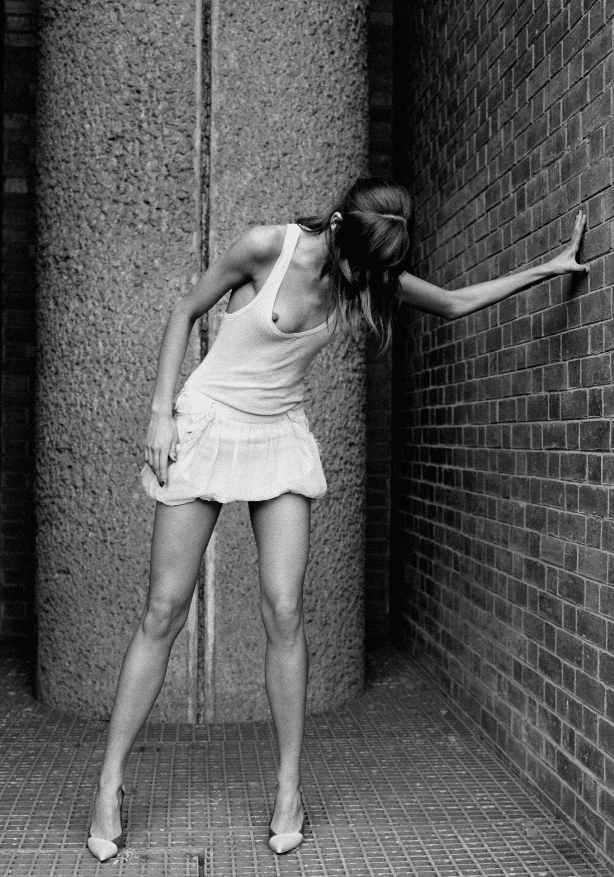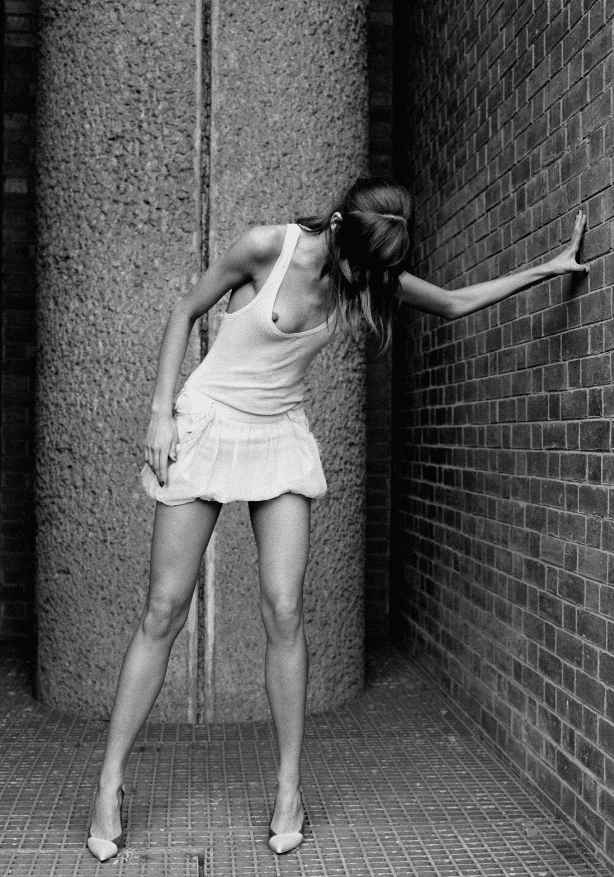 Mary has worked with celebrities that range from Jude Law to Madonna. Whose portraits can we expect to see feature in the exhibition?
No celebrities. There is only one of Kate Moss; it's the only colour photo that we are showing. There is one more of Kate Moss on the runway in black and white.
Why did you choose not to display celebrities in this show?
Once you've chosen three of four images for the show, it just dictates the whole show. There are going to be sixteen photographs in the show. It just happened; it wasn't deliberate.
With art, you think everything is deliberate?
No, it's more go with the flow. You know, there is a famous pair of collectors, Herbert and Dorothy Vogel. It's a husband and wife. They are some of the biggest collectors in the world, and they never had any money. Once someone asked them, "How did you know thirty years ago to pick up a piece of cardboard and that one day it will be something? How did you know it was good art?" And the husband said, "If I had to think about the picture, I would never buy it. But if it hit me in the stomach, I would buy it immediately." I think that people who can really reflect on the meaning of a picture are painters or photographers, because they are very close to it. And anybody else, even a critic, they don't necessarily know the details of how it's made, or the artist's intentions. A photo has to hit you in the gut, and if you have to think about it, it's not the picture for you.
Is that how it was with Mary's photographs for you?
Yes. It's just a feeling. Look at her photo Flora [pictured below], for example. You have to look at the cropping—it's unbelievable. Mary is a master of cropping. There is no nose, no eyes, you see the beautiful lips, the focus is perfect and just where it's supposed to be, but the cropping is the key. So you immediately feel something for it.
So Mary has never shown in Canada before. How did you convince her to show at Izzy Gallery?
With Mary, I reached out to her team and they liked the idea, the artists that we have worked with in the past, the way we work. We do two shows a year. We are not a gallery that carries fifty artists; we carry fifteen. And we don't want to carry fifty. I want to be involved in the pieces the artists are making. I want to have something exclusive that you can't find in galleries in London or Paris or New York.