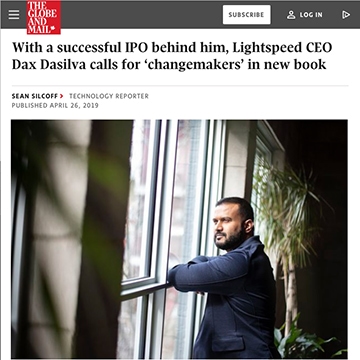 Age of Union: Book Launch and Global Tour
As the agency of record for Lightspeed since 2016, NKPR manages media relations, influencer relations and strategic planning in North America for the Montreal-based tech innovator that employs more than 800 globally, and has over 50,000 customers.
THE CHALLENGE:
To develop a strategic PR plan around the launch of the debut book from Dax Dasilva, Founder and CEO of Lightspeed, to generate awareness and ongoing buzz, social media traction and to secure broadcast, print and digital coverage across North America.
WHAT WE DID:
Provided strategic counsel on cover design during planning stages of book
Developed and distributed a press release announcing the launch of Age of Union: Igniting the Changemaker across North America
Engaged media across North America for one-on-one interviews with Dax Dasilva to coincide with tour schedule
Planned and executed an events partnership with Soho House to engage key media and notable influencers in four major markets: Los Angeles, Toronto, London and Amsterdam
Distributed targeted book drops to media and influencers across North America to leverage for interview opportunities with Dax Dasilva and generate social media coverage for the project
RESULTS:
44,307,300 media impressions across 56 pieces of coverage
3,832,244 social media impressions from 56 individual social media hits
Feature coverage highlights include The Globe and Mail, Global Morning Show, NEWS 1130, Montreal Gazette (syndicated), Breakfast
CANADA
312 Adelaide St. W. Suite 100
Toronto, ON M5V 1R2
+1 416 365 3630


USA
101 Avenue of the Americas, FLR 9
New York, NY 10013
+1 917 794 4984

All Rights Reserved ©2016 by NKPR Inc.