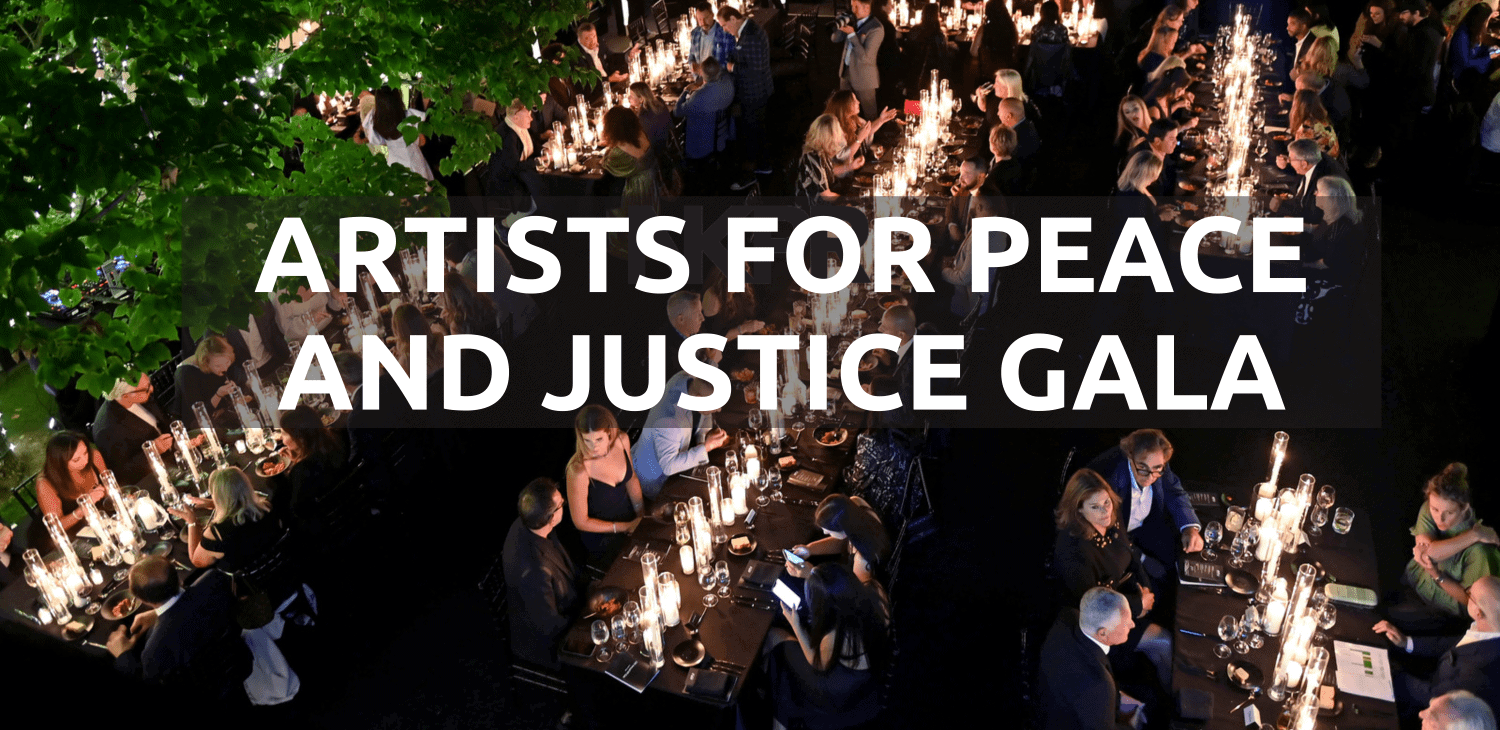 September 24, 2021, 9:46 pm
Our 13th annual Artists for Peace and Justice (APJ) Festival Gala took place Saturday, September 11, raising critical awareness and needed funds to support education in Haiti. In an intimate setting at the home of Natasha Koifman, local and global communities gathered during TIFF to support this imperative initiative. Thanks to the generosity of our sponsors and guests, $500,000 was raised in one evening, with 100% of funds raised going directly to The Academy for Peace & Justice in Port-Au-Prince, Haiti, to provide public access to secondary school education.
Natasha Koifman, ​​President of the Board for Artists for Peace and Justice (APJ) Canada, and on the Board of Directors for the organization's American counterpart, co-chaired the gala with APJ Canadian board director, Suzanne Boyd.
Actress Natasha Gargiulo and APJ Canadian board treasurer, George Stroumboulopoulos, emceed the event, beginning with a moment of silence dedicated to both the recent devastation in Haiti and twenty year anniversary of 9/11.
In recognition of APJ's long-standing commitment to altruism, Geddy Lee, of the iconic Canadian rock band Rush, received this year's Lifetime Achievement Award for his commitment to philanthropy. "For philanthropy to have any impact requires a tremendous amount of collective action—momentum," said Lee.
Rick Springfeild virtually surprised his friends Shantelle and Yannick Bisson with the Canadian Changemaker award for their relentless charitable efforts over the years, supporting APJ as well as Childhood Cancer Canada, Sheila's Place, Boost for Kids and more.
Natasha Koifman, ​​President of the Board for Artists for Peace and Justice (APJ) Canada
"Education should not be a privilege, but a human right for every child," said Koifman. "And yet Haiti only offers paid secondary education. Many Haitian families live on one dollar a day making it an impossibility. I am so grateful for the many people who have been part of APJ since day one and everyone here tonight. Together, we have helped 26,000 students get an education since 2012. It's incredibly important we support a community that in reality, is in our own backyard. We have to take action."
Both physical and virtual experiences showcased the first-hand impact of APJ on the lives of youth in Haiti, including video wholehearted messages from Jaebets Gilles, Execute Director, St. Luke for Haiti Foundation Educational Program, and Jimmy-Jean Louis, actor and Ambassador at Large to Haiti, who reminded guests of the significance of their support—education and training that empowers the next generation of leaders with resilience and hope for better living conditions.
Long-time APJ supporters, Ben Stiller and Susan Sarandon, virtually thanked guests and reminded them of the impact these fundraisers have on education and health programs in Haiti. Legendary musicians Jim Cuddy and Rick Springfeild also contributed brilliant virtual performances.
Special live performances included Witch Prophet and DJ Sun Sun, Kayla Diamond of Slaight Music, and Haitian artist Paul Beaubrun who flew in directly from Haiti and made it in just in time to close the evening.
This year's live auction was led by former Canadian Changemaker Award recipient David Daniels and Canadian TV personality Natasha Gargiulo. Highlights included a bidding war between Lee Piccoli and Yannick Bisson for Anthony Ricciardi's "Day Dream", an original painting that went to Lee for a generous APJ donation of $20,000. Ginger Barkey and Rose Mantella bid aggressively for Russell Young's "Marilyn Crying", a large format, diamond-dusted screen print donated by Taglialatella Gallery, before Danny Soberano from INK Entertainment Group offered a second piece for auction, allowing both bidders to take home this prize artwork, raising a combined $120,000 donation. Michael Bratty and Gillian Oxley competitively bid for a walk-on role on Murdoch Mysteries. Lead actor Yannick Bisson and Shaftesbury, the production company who donated the auction item, generously offered both bidders a walk-on role opportunity, raising $30,000.
The night was a huge success, having had support provided by many local community members and sponsors. A huge thank you to the Ritz Carlton, who set up their Epoch bar featuring specialty cocktails, Flow for keeping our guests hydrated, and Shaftesbury, Slaight Music, and No.7 Dale. Big shout-out to Motorino Restaurants, who kept guests warm with their coffee cart.
Thank you to everyone who attended and participated in this year's gala. To learn more about Artists for Peace and Justice, visit https://www.apjnow.org/.
Photography by: Ryan Emberley