On May 17, 2023, NKPR creative director and men's mental health advocate, Eric Hendrikx, hosted the 2nd annual Distinguished Social Affair, bringing together a community to support Movember and raise funds and awareness for men's mental health and prostate cancer research. With 25,000 Canadian men diagnosed and 5,000 lives lost to prostate cancer each year, alongside the distressing statistic that 3 out of 4 suicides are men, the urgency of this cause struck a chord in all of us.
. 
Held at the Ritz-Carlton Toronto's EPOCH Bar & Kitchen Terrace, and in advance of this year's Distinguished Gentleman's Ride, crowds of Torontonians joined in to support an important cause that has impacted most everyone to some extent. "We lose on man to suicide every minute of every day," says Eric. "That's about 500,000 men a year. The issue of men's mental health and suicide is complex. But we do know that creating conversations, checkin in, and supporting each other reduces the risk."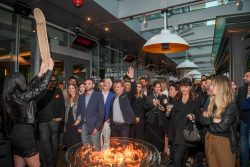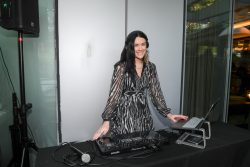 DJ Waves created the perfect ambiance with beats, and the talented team at EPOCH delighted attendees with food and not one, but two custom cocktails: The Wildflower, and the Reservoir Dog! The night included a live auction, giving attendees the opportunity to bid on special memorabilia, one-of-a-kind experiences, and custom artwork from the likes of Ben Harper, Tony Hawk, William Shatner, and Peter Triantos.
Successfully reaching his goal of doubling last year's attendance, Eric helped to raise more than $40,000 for Movember, making him the #1 DGR fundraiser in Toronto for a second year in row, and among the top 10 in the world. Congratulations to Eric on another successful year and we extend our heartfelt gratitude to everyone who supported this crucial cause and contributed to its success.