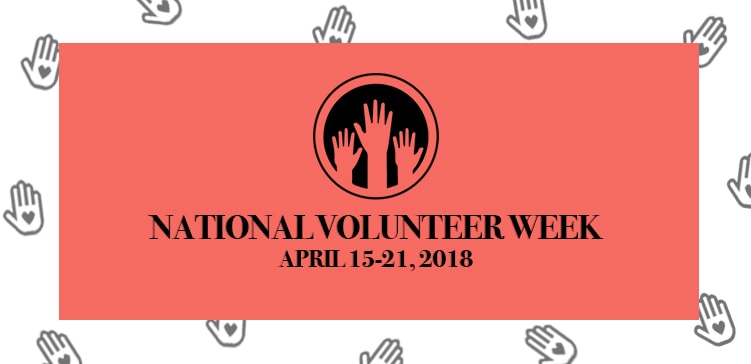 Canada celebrating 75th anniversary of National Volunteer Week 
How will you give back?
2018 marks the 75th anniversary that Canada has celebrated National Volunteer Week. First organized in 1943, it was initiated to celebrate women's volunteer efforts to support the war effort. Since then, Canada's volunteer movement has exploded. Now close to 13 million Canadians contribute over 2 billion hours each year to more than 170,000 non-profit organizations across the country. That's the equivalent of 1 million full-time jobs. The theme for this year's National Volunteer Week, which runs from April 15 – 21, is: "Celebrate the Value of Volunteering – building confidence, competence, connections and community".
Create a life that feels good on the inside. Work hard and help others. 
How true. Ask anyone who has volunteered and they'll tell you that they receive far more than they give. There's something almost magical that happens when you volunteer. Volunteering provides so many positive benefits. It increases confidence, self-esteem, social connections and lower rates of stress, depression and even blood pressure. It simply makes you feel good. Researches have coined the effects the happiness effect. 
"If our hopes of building a better and safer world are to become more than wishful thinking, we will need the engagement of volunteers more than ever." Kofi Annan, Ghanaian Diplomat, Nobel Peace Prize winner.
Extraordinary things can happen when you join with people who share your passion for causes you believe in. Consider some of the recent volunteering phenomena like Me to We (founded in 2008 which now supports and raises millions for 7,200+ local and global causes) and the most recent activist volunteer movement of NeverAgain MSD started just months ago in February to pressure the U.S. Congress to introduce gun control reforms. These are just two of countless examples of volunteer-initiated efforts that are helping to change the world. 
Much like a job, getting the most out of volunteering requires that you do your research to find the right opportunity that matches your skills and interests. Here's a few websites to help get you started.
Find the best volunteer opportunity for your skills and interests 
Volunteer Canada (https://volunteer.ca) is a great place to start. With boundless resources and a link to provincial associations of volunteer centres across the country, the site also offers a fun interactive quiz to help you pinpoint what type of volunteering opportunity suits you best. https://volunteer.ca/english/questions.html 
Take your skills abroad
Interested in volunteering abroad? There are lots of organizations that will help you coordinate a trip abroad to countries in South and Central America, Africa or Asia, paired with meaningful volunteer experiences. It's a great chance to learn about another culture and country while giving back. With a database of 800 international volunteer organizations and 3,500 program reviews, they've done the research to find top volunteer abroad opportunities. The volunteer work I do with Artists for Peace and Justice (APJ) has enabled me to learn so much about the incredible spirit, hope and resiliency of the Haitian people. To help you find and fund your volunteer abroad trip, check out Volunteer Forever (www.volunteerforever.com).
Learn more about volunteerism in Canada 
If you want to learn more about the volunteer sector in Canada, check out Imagine Canada (www.imaginecanada.ca). Given the huge impact that volunteers have in Canadian society (with 2 million Canadians working for non-profits and charities, representing over $135 billion), it's becoming one of Canada's biggest areas for job growth. If you're thinking of a career in the non-profit sector, check out Charity Village (www.charityvillage.com) which posts job opportunities in the volunteer and non-profit sector. All charities need expertise in such areas as events management, fundraising, communications, finance, project management plus many others. Charity Village also offers learning and training sessions and webinars to advance your skills. 
The meaning of life is to find your gift. The purpose of life is to give it away.
We all have skills and we all have interests. And when the two come together and you're able to make a positive difference, it feels amazing. Whatever your interest is, somewhere, a charity needs your skills and passion to help them. Why not step up and give back? Trust me, the experience will forever change you for the better.
Do you volunteer? Why and how? How do you feel it has impacted your life? Tweet me @NatashaNKPR or leave a comment below.