September 27, 2011, 7:44 pm
Scotiabank Nuit Blanche is a rite of passage for fall, marking the end of patio lounging and the beginning of knee socks and scarves. Whatever it is, it's almost here and, like anything that involves Torontonians milling the streets by the millions, it requires a plan of action. Here are nine exhibits that we're excited about checking out this Saturday night.
Oh, and if you need a 3 a.m. snack while you're exploring, our friends at Baker Street will be setting up temporary digs, no, not on Baker St., but at Yonge St. and Dundonald St. (one block north of Wellesley). Stop by and sample Baker Street's handcrafted Apple or Strawberry Rhubarb pie. Guaranteed to be a slice!
1. Fluxe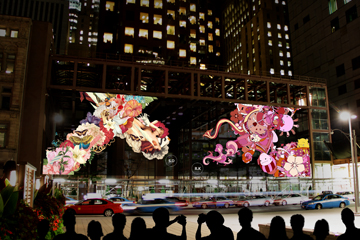 An interactive, immersive piece that democratizes art by inviting the spectator into the world of the artist by becoming the artist himself. Planted LCD screens are the paintbrushes and a 100 by 33 foot digital LED screen becomes the canvas. Paint on these touchscreens or on your own Blackberry Tablet to see your work projected on the giant LED canvas.
Scotia Plaza
(Located on Adelaide Street, between Bay Street & Yonge Street)
2. Flightpath
A very cryptic description on the website promises the gift of urban flight. Ideally this means being strapped into winged contraptions and soaring above Toronto skies. Reality check means this will include colossal lineups, but we're too intrigued to care.
Nathan Philips Square
3. Fly By Night at the Gladstone Hotel
The Gladstone is always worth the trek to the west end, which usually features a slightly-less-PG street art party than its central counter parts. This year, the Gladstone is promising live vaudeville, burlesque, karaoke, the words "Wish you were here" written in neon, and even sound installations inspired by deceased insects. If that last one doesn't draw you west of Oz, we don't know what will.
Gladstone Hotel, 1214 Queen Street West
4. L'écho-l'eau
Reminiscent of those old Log Driver's Waltz cartoons (not to mention the actual log run tradition by which the cartoons were inspired), the atrium of the MaRS building will be transformed into a slice of Canadiana complete with floating lumber. Log runs can be attempted at your own risk and leisure.
MaRS Building
101 College Street
Picking up where the pun-loving Duchamp left off, Tie-Break proves that art can be funny. And, in this case, physically exhausting. Artists Tibi Tibi Neuspiel and Geoffrey Pugen will spend all night recreating the 1980 Wimbledon Gentlemen's Finals between Björn Borg and John McEnroe that ESPN has lauded as the "the most riveting episode in the sport's history." Each stroke, each facial expression and each grunt is choreographed to be a replica of the real thing.
Commerce Court, North Plaza
25 King Street West, east of Bay Street
6. A Brief History of Rebellion
Tapping into the idea that when you say something over and over again it loses meaning, a group of Toronto musicians will play Nirvana's Smells Like Teen Spirit 144 times. Incidentally, that song is already so perennially overplayed that playing it 144 more consecutive times are sure to blow any remaining morsel of meaning straight into rock n' roll oblivion.
186 Spadina Avenue
The green roof of Toronto City Hall will be turned into a light up dance party of mechanical arms waving in sequence. The machine moves and reacts in a series of sensors; visitors are also able to move the arms themselves.
NW Corner of Podium Roof Garden
City Hall, 100 Queen Street West
This fire-spewing sculpture needs participants to function properly. The Heart Machine has four arteries that, when touched, spew flames up to 25 feet in the air. According to the program, this piece was "inspired by Fritz Lang's film, Metropolis," and "serves as an interactive metaphor between citizen and city, citizens and technology." Also, it originally premiered at Burning Man, so watch out for hippies with face paint.
Parking Lot, 640 Bay Street (Between Elm Street and Edward Street)
9. The Dogs and Boats and Airplanes Choir
Dogs meet boats meet airplanes meet children's choir for this sound installation that will be snaking through the Atrium on Bay. The idea is to connect sounds of the industrial, technological world with that of the living, particularly with sounds of man's best friend. It sounds delightfully eerie.
Atrium on Bay 595 Bay Street
Check out the full list of exhibits and plan your night at www.scotiabanknuitblanche.ca.