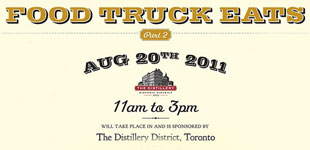 If we've learned anything from Hollywood, it's that sequels are almost always a terrible idea. But  Food Truck festivals? That's an entirely different plot, one where there's always room for seconds!
Luckily, the folks at the Distillery District have tapped into this with Food Truck Eats Part 2, with 13 trucks and 13 vendors. Word on the street is that Baker Street will be serving our favourite mini apple, peach and strawberry rhubarb pies. Heck, it's enough to make us cross our fingers for a Food Truck Trilogy!
Be sure to come by early, see you there!