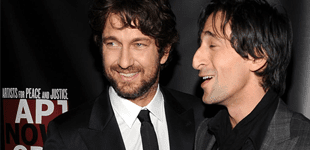 November 9, 2010, 9:50 pm
The Artists for Peace and Justice "Let's Build a School for Haiti" event took place on Friday night in New York and wow!—it was beyond incredible! Over $700,000 was raised—in one night!—for APJ's new school in Port-au-Prince, the Academy for Peace and Justice. So many stars came out to support the cause: APJ's founder Paul Haggis, Gerard Butler, Russell Crowe, Salman Rushdie, Susan Sarandon, Edward Norton, Courtney Love, Jesus Luz, Moran Atias, Adrien Brody, Philip Seymour Hoffman and Trudie Styler. The nearly 200 guests in attendance mingled and dined with the celebs in the beautiful Millesime restaurant in Manhattan. And Pras Michel performed with this amazing band and DJ… it was all amazing!
And the auction! So many great moments! Courtney Love bought a walk-on role in Paul Haggis's next film—I can't wait to see how that plays out! (She also bid on some gorgeous dresses from Marchesa.) And, although Gerald Butler protested (playfully, of course), Adrien Brody won "tea time" with the P.S. I Love You star! It was hilarious! Brody then made things even more interesting by offering himself up for auction (just for a champagne date though).
Scroll down to see the photos and tweet me about your favourites! twitter.com/natashankpr
XO Natasha
P.S. – Want to give to Haiti but couldn't make it to the event in New York? Go online and donate at www.apjnow.org.