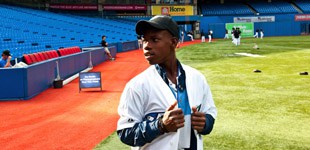 September 15, 2011, 9:09 pm
With the annual Hollywood invasion officially behind us, one group of boldface names took advantage of the film festival to help out a cause that's far removed from the limos, champagne and ball gowns that come with it. NKPR is proud to say that one of the biggest success stories during the film festival were events held to benefit Artists for Peace and Justice (APJ), a charity which supports health, education and dignity initiatives in Haiti. With three events during the 10-day festival, APJ hosted the who's who of the film and music industries and raised more than $600,000 for the organization in the process. 100% of the funds will reach those in need in Haiti.
Here are the highlights!
APJ Blue Jays Day – September 8, 2011
Joseph Alyyns, a 16-year-old Haitian boy who lives in the tent camp of Villa Betame in Port au Prince, was flown into Toronto with the APJ Haiti ground team to help raise awareness of the work APJ does with children of Haiti.
Joseph's home was destroyed in the earthquake of 2010 and he moved into a tent camp with his parents and sister. Joseph makes bracelets from found materials to sell to support his family. Joseph's mother makes jewelry out of recycled trash for Kado gift, and his father sells phone cards on the streets of Port-au-Prince. Despite the challenges Joseph has faced, he remains brave and resilient and is an inspiration to all he meets.

Joseph at the Rogers Centre in Toronto
Joseph is also the star captain of the Tabbare Tigers – Haiti's first little league baseball team built at the Artists for Peace and Justice secondary school. So what better way to introduce Joseph to Toronto than at a Toronto Blue Jays game! Thursday night at the Rogers Centre, clad in his very own Bautista Blue Jays jersey, Joseph represented the APJays team by throwing the first pitch (in brilliant style!) and then joined the Jays team for the pre-game warm-up. He also enjoyed the rest of the game in a corporate box, courtesy of generous APJ supporter Martha Rogers, watching the Jays' successful win over the Red Sox.
TORO After Dark Benefiting Artists for Peace and Justice – September 9, 2011
The red carpet was hot at AME on Friday night, where guests rubbed shoulders with Hollywood A-listers and danced the night away to tunes spun by DJ Tony Okungbowa (The Ellen DeGeneres Show). On the menu? A delicious mix of festival-inspired SKYY Vodka cocktails and mouth-watering hors d'oeuvres prepared by INK chefs. Paul Haggis, Gerard Butler, Jason Reitman and George Stroumboulopoulos hosted the soirée, with all ticket sales going to APJ work in Haiti.

Paul Haggis, George Stroumboulopoulos, Gerard Butler and David Belle
While many film festival events are restricted to film industry professionals and sponsors, this year's TORO After Dark provided an opportunity for APJ to generate awareness and engage a new audience in a relaxed setting, while providing the opportunity to meet some of Hollywood's biggest personalities.
Event-goers were also able to support APJ through the purchase of the Vhernier Haiti ring. The Italian jeweler has created a limited edition ring in silver and gold to support APJ and the Francesca Rava Foundation's ongoing efforts to educate the children of St. Luc Street School and the Academy for Peace and Justice in Haiti. Each ring sold will provide one child with an entire year of education.
APJ Academy Lunch – Saturday, September 10, 2011
An intimate backyard gathering, the Academy for Peace and Justice Garden Lunch was held at a private Annex estate where celebrities and socialites alike gathered to unwind from the buzz of the festival and support APJ.
Supporters including Jon Hamm, Jennifer Westfeldt, Paul Haggis and Madeleine Stowe enjoyed intimate performances by Eddie Vedder of Pearl Jam, Régine Chassagne of Arcade Fire and DJ Tony Okungbowa.
Once-in-a-lifetime opportunities – ranging from a trip to the APJ site in Haiti, tickets to the Hollywood Awards (the hardest tickets to get a hold of!), dinner with Gene Simmons and Shannon Tweed, a meet-and-greet with Justin Bieber and an exclusive red carpet experience at the L.A. premier of Ides of March – were auctioned off by host Paul Haggis. More than $159,000 was raised from the auction itself – not bad for an afternoon lunch!

Paul Haggis, Jennifer Westfeldt and Jon Hamm

Eddie Vedder and Régine Chassagne
IT Lounge
In addition to APJ events during TIFF, international and local brands came together to raise additional funds for APJ at the NKPR IT Lounge.

Paul Haggis being interviewed at the IT Lounge
Italian brand Coccinelle, who are launching their exclusive range of luxury handbags and accessories, hosted a daily silent auction.
Kobo, known for their eReader, donated funds to APJ for every IT Lounge celeb who signed up for the Trillion Minute Challenge.
SKYY Vodka, the official vodka of TIFF, donated funds for every celebrity who sipped on one of their official festival cocktails (the SKYY Wilde Ginger, Lively Temptress or Feelin' Fiennes).
Stratusphere Living, a unique yoga and fitness line crafted by WWE women's champion Trish Stratus, donated funds for every celebrity who visited the Lounge.
APJ has already built one school in Haiti and is already working on its expansion. To find out how you can get involved,click here.