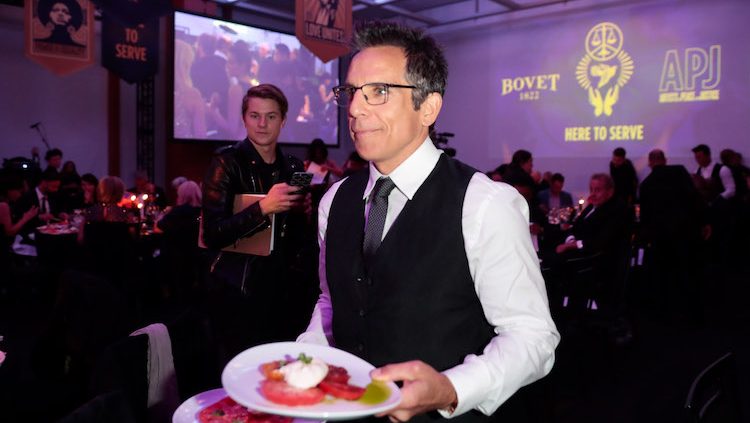 September 20, 2017, 2:19 pm
The Artists for Peace and Justice annual benefit returned this year at the Art Gallery of Ontario. Marking its 9th year at the film festival to raise awareness and profits for Paul Haggis' (APJ) an international charity organization that funds youth education, health and dignity initiatives in Haiti.
Co-hosted by  Ben Stiller, Cuba Gooding Jr., Morgan Spurlock, Yannick & Shantelle Bisson, and George Stroumboulopoulos including APJ board members Paul Haggis and Pascal Raffy it was a classy night to remember over good food, company and an auction that raised $1.1 million for education and health programs in Haiti.
The theme of APJ's star-studded gala was Here To Serve, presented by BOVET 1822 raised awareness and funds in support of education in Haiti.
The stars came together to celebrate and award activists and cultural leaders for their lifetime of service. Jackson Browne was awarded with the Peace and Justice Activism Award celebrating his lifetime of activism both in Haiti and around the world.
The inaugural Canadian Changemaker Award was presented to Canadian Gary Slaight honouring his commitment and lifetime dedication to philanthropy in Canada and around the world. The award was presented by Birks, a sponsor of the gala.
Thanks to the exceptional support of BOVET 1822, APJ is able to give 100 per cent of every dollar raised directly to supporting health, dignity and education initiatives in Haiti.
To be part of APJ, you can purchase the official merchandise that can be bought online with 100 per cent of the proceeds going towards APJ. Everything from hats, t-shirts and tote bags that can be a great additions to one's closet.