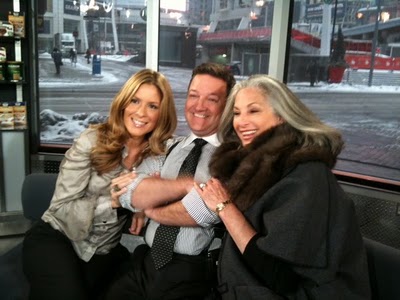 January 25, 2011, 7:09 pm
Yesterday, I was beyond excited to have a beauty legend in my home! Essie Weingarten, the founder of essie—the go-to colour-obsessed nail brand. She was in Toronto for the first time ever to speak with media about the February 8th launch of her brand at Shoppers Drug Mart. It was an amazing day full of colour and quality girl time! We started out atBreakfast Television where Essie was interviewed by Dina Pugliese. Here's a photo of her on set with Dina and Kevin Frankish:
At an event in my home later in the day, media had the chance to meet with Essie and have a sneak peek at the new essie spring collection for Shoppers Drug Mart, "French Affair." Media got pampered with a mini-manicure and learned about essie's customized nail care line, which includes base coats, cuticle products and top coats. Here are some of my favourite photos of the day:
It was a perfect day for a colourholic like me!
XO Natasha
P.S. Look for essie's French Affair collection at Shoppers Drug Mart on February 8!