This season has been a busy one inside NKPR and we've got to say, there's nothing quite like a good ol' fashioned statutory holiday to recharge our batteries.
Canada Day is coming up and nothing fills us with more national pride than watching a sea of red & white parade through the country's hottest cities. 
This year's Canada Day falls on a Wednesday (womp womp…) and while we'd never complain about a day off, having it stuck right in the middle of the week can make getting away difficult. But you still want to feel like you've got SOMETHING special planned, right?  Enter the staycation.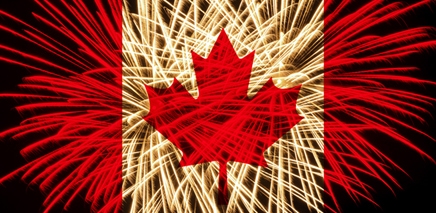 In honour of Canada's 148 th birthday (can you believe we're 148 years old?!), HotelTonight – the leader in last-minute travel apps – is offering hotel room deals from $48- $148 on June 30 th and July 1 st !  
THIS MEANS: Room service –  No traffic –  Comfy beds –  Maid service – yes, please!
What better way to celebrate Canadian heritage than falling asleep under the fireworks and waking up to bacon and maple syrup drenched breakfast in bed?  Whether you want to hang with the hipsters at  Toronto's Thompson Hotel, chill out at the charming Chateau Versailles in Montreal or visit Vancouver's hot spot Hotel Blu, there are options galore! 
Here's how it works : Rooms will go live 7 days in advance of Canada Day (June 24) starting at 8 AM (local time in Toronto, Montreal, Vancouver, Calgary, Ottawa and Niagara Falls) with new offers appearing daily up until July 1. 
Keep an eye on all the hotel deals available on HotelTonight and book the one you love directly through the app – start to finish in less than 10 seconds! 
Download the HotelTonight app here  and check out the full list of hotels that will be featured in the Canada Day promotion.
And's that's how we'll be showing off our patriotic pride…How are you planning on spending yours?
Let us know @natashakpr on Instagram and Twitter!