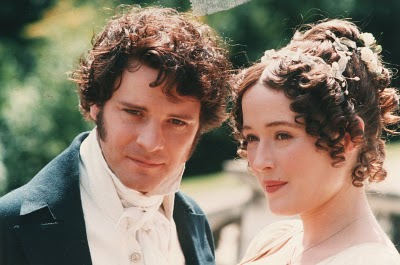 October 20, 2010, 9:11 pm
So it's fall and it's getting cooler outside and I'm thinking about hibernating. Since I'm eating healthy now, comfort foods are out, but comfort movies are in! To help you plan for your own upcoming hibernation, here's my staff's combined Top Five All-Time Favourite Films (and its biggest fan!):
BBC's Pride and Prejudice (Jenna)
Jaws (Jeannette)
Trainspotting (Nicole)
Father of the Bride (Marissa)
Annie Hall (Kaley)
Okay, so one of these picks is a miniseries (see above) andJaws was really only selected by Jeannette so maybe it shouldn't be on this list (Emma did select "anything with sharks in it" though), but I never said this list was scientific. 😉
By the way, we have loads more on our list from loads more of us. (Dzeneta has a thing for Four Christmases; André likesBraveheart; Cat's into Mulholland Drive; Katy's a fan of Some Like it Hot; Corinna's seen High Fidelity too many times to count; Victoria thought Julia Roberts was great in Erin Brockovich; Reiko prefers documentaries but she did enjoyFight Club; Bunmi eventually admitted to loving The Sound of Music; Andrea fell in love with Say Anything; Emily is obsessed with everything starring Bill Murray; Rebecca didn't think twice before choosing Clueless and Aimee swears that Teenage Mutant Ninja Turtles is a "film"…) If you want some extra suggestions, tweet me at twitter.com/natashankpr.
Now for my favourites:
'Til there was you
Sliding Doors
You've Got Mail
He's Just Not That Into You
When Harry Met Sally
Happy hibernation!