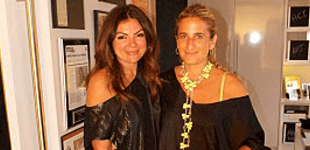 October 15, 2010, 8:57 pm
I want to give a shout-out to some amazing Canadian designers who unveiled their new collections this week.
Philip Sparks showed his Spring 2011 Collection on Wednesday and it was, of course, incredible! He really does that preppy-chic look better than anyone. AND he's designing for women now, too! Click here to check it out.
Joeffer Caoc presented his Spring/Summer 2011 designs at the Audi Presents "The Art of Progression" event last night. Here's some early video. I can't believe I'm writing this, but the show inspired me to introduce hot pink into my all-black wardrobe!! Seriously, I rarely ever wear any colour, so this is a big deal! Here's me wearing one of Joeffer's amazing black dresses at the launch of our new office space back in June of this year (that's me on the left):
And today, the Greta Constantine Spring/Summer 2011 collection will be showing. I wonder what Kirk and Stephen have come up with this time?
Which Canadian fashion designers do you love? Tweet me at twitter.com/natashankpr
XO Natasha
P.S. Our office is having another Fashion Friday. Today's theme? Rocker Chick! (+ one Rocker Boy)