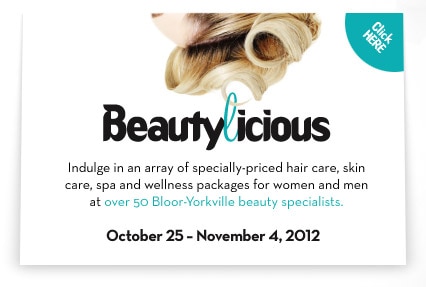 October 25, 2012, 2:42 pm
Looking to try out a glam new hairstyle… Or perhaps a new workout regime? Or do you just need an hour of relaxation after a hard day at work? We're excited to announce that the city's premiere beauty event – Beautylicious – is back in Bloor-Yorkville!
Inspired by Toronto's annual Summerlicious/Winterlicious prix fixe festivals, over 50 participating Beautylicious businesses offer an array of hair spa, health and wellness packages at four "prix fixe" prices: $30, $50, $75 and $125!
Beautylicious offically starts today, October 25 and runs until November 4!
Check out a full list of services and packages here:  http://www.bloor-yorkville.com/Beautylicious/