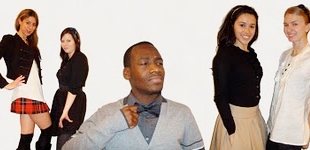 December 10, 2010, 7:18 pm
Spotted at NKPR: Six Blairs dressed to kill, a handful of Serenas sipping on Stella Artois, one Little J ducking the paparazzi and Chuck making all of them swoon.
I know that I photo-blogged on Wednesday, too, but it's just been such an incredible week for clothes at our office! Today was Fashion Friday, a tradition that Marissa and Kaley invented so we all have an excuse to dress up at work. Brilliant, no? Today's theme was Gossip Girl (obviously) and wow! — did my staff ever make me proud! Special thanks to Goody for the Luxe Headbands!
Xoxo Natasha