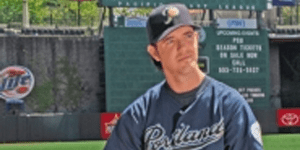 November 7, 2011, 11:30 pm
We all know that professional athletes draw big crowds. Even those of you who don't care much for puns will be able to find truth in that statement. But as individuals can they draw their own followings?
"Cream of the crop" athletes like Dwight Howard, LeBron James and Shaquille O'Neal (to name a few) have had no trouble whatsoever gaining millions of followers on the popular social media platform, allowing athletes to individually market themselves, connect directly with fans and extend their careers.
As individual brands, they're the Coca-Cola's, CNN's and McDonald's of the world because people already know them for how they differentiate themselves from everybody else when they play. The social media formula for this class of athletes is simple, as it really doesn't matter what they say, because people will listen regardless.
For some lesser-known players, Twitter has actually helped them gain fame off the court, ice or field. But what makes for a good personal social media marketing strategy when you're a rising sports star? Here's a list of the top 10 athletes whose Twitter popularity (significantly) transcends their athletic production. It's fair to say that without Twitter, these guys might actually dwindle off into the oblivion.
10. Dirk Hayhurst (@TheGarfoose) Pitcher, Durham Bulls
When I first saw Dirk Hayhurst's Twitter handle, I couldn't help laughing despite not knowing what a "Garfoose" was. After finding out that it's a "musical" half-giraffe/half-moose created by Hayhurst himself to support kids with special needs, I couldn't help but feel touched. Despite the fictional character, Hayhurst is witty and snarky. He's an author and he currently blogs for a popular sports website called the Bleacher Report. Hayhurst may only be a minor league pitcher, but has quite the following of 11,450 – not bad for a 32-year-old guy who's never played a full season in the Majors.
9. Peter Moylan (@PeterMoylan) Pitcher, Atlanta Braves
Hailing all the way from down under, Moylan brings an Aussie feel to his tweets, an atypical feature of a professional baseball player and one that sets him apart. His popularity skyrocketed after he tweeted a picture of himself wearing a tight black mini-dress. His typical daily Twitter feed isn't nearly as disturbing. He sits at 33, 296 followers.
8. Dallas Braden (@DallasBraden209) Pitcher, Oakland Athletics
Dallas Braden hasn't done much in pro baseball. But people like him because he tweets like he's the head of a fraternity out of Arizona State. He's funny, he's crude, he's immature… But what else do you want from your Twitter feed?
6. George Parros (@Stache16) Forward, Anaheim Ducks
His Twitter handle couldn't be more self-explanatory. George Parros wears number 16 and is very proud of his moustache. So much so, that he's developed a reputation for making #stache jokes. But Parros is hilarious even when he's not talking about his moustache… just ask his 28,000 followers. Not bad for a guy with just 30 points in 378 NHL games.
5. Ben Crane (@BenCraneGolf) Golfer, PGA Tour
Crane is the mastermind behind the famous "Golf Boys" video that took the golf world by storm a few months ago. Who knew that satirized videos made people laugh? Besides everyone. Either way, the video got 3 million hits and Ben Crane's name is attached to it. The humour he displays in the video definitely comes through on twitter, making for an entertaining feed.
4. Chris Kluwe (@ChrisWarcraft) Punter, Minnesota Vikings
By far the coolest punter in the NFL, Kluwe isn't afraid to speak his mind. In addition to being known for being an avid World of Warcraft fan and not being afraid to speak his mind, Kluwe is genuinely one of the funniest and brightest athletes on Twitter. According to his Twitter bio, his location is "with Carmen Sandiego". His 30,000 followers is almost an absurd number for a guy who simply punts a ball 5 times per game.
3. Stuart Holden (@StuHolden) Midfielder, Bolton Wanderers
An American soccer player playing in Scotland, Holden gives American soccer fans (and international fans alike) a taste of what it's like to play abroad. He's one of soccer's most prolific tweeters (especially for English-speaking fans) and spends a lot of his time responding to fans and holding contests. His contests have proven to be extremely popular and he does them consistently, which is just a bonus for anybody following him. He has more followers than anyone on this list with a whopping reach of 223,100 followers. Who says people don't watch soccer?

TIE-2. Logan Morrison (@LoMoMarlins) Outfielder, Florida Marlins
LoMo is a self-professed Twitteraholic who uses his account to do things like provide his male followers with valuable dating advice and banter with fans from across the league. He once invited a Phillies fan to a Marlins game after developing a friendship with the fan on Twitter. Such acts can only benefit one's personal popularity, and most pro athletes just don't do things like that. It's guys like Morrison who are breaking down the barriers between fans and professional athletes. At just 24, he's reaping the benefits with his 73,000 twitter followers.
TIE-2. Ndamukong Suh  (@Ndamukong_Suh) Defensive Tackle, Detroit Lions
Suh probably doesn't belong on this list as his popularity is definitely justified by his play on the field, but then again he does hold the world record for the largest tweet-up. Sorry but I had to bend the rules to include him in this list. If not solely for the opportunity to try and spell his name, then to give him props on getting 2,000 fans to come meet him prior to a Nebraska Cornhusker's game back in April. That's what I call social media swagger.
1. Paul Bissonnette (@BizNasty2Point0) Forward, Phoenix Coyotes
The truth is, this list wouldn't have been made if not for Paul Bissonette and his legendary Twitter account. We're talking about a guy with 7 career points in 110 NHL games. A guy who is often a "healthy scratch" on the Phoenix Coyotes depth chart. He may be a fourth-line grinder, but Bissonnette is by far the most entertaining hockey player on Twitter. Actually, it would be fair to say that if it wasn't for Twitter, most hockey fans would have a hard time knowing who Paul Bissonnette was.  Like Parros, Bissonnette rocks a mighty fine moustache and tweets mainly to make his followers laugh. But I think I know his secret. He has the second most followers among NHL players with 164,353 (only Ovechkin has more), and shows no signs of slowing down. In fact, Bissonette's Twitter popularity has sparked the creation of his own apparel company: Biznasty.

With that said, it's hard not to credit these guys for stepping outside the box and providing their fans with an experience never before available in professional sports. It's also pretty amazing that it provides these players with the opportunity to promote themselves and perhaps benefit in more ways than one. So where do the brands fit in?
Ladies and gentlemen, Twitter has changed the game.
Which athletes are you following? Who did we miss on our list? Tell us in the comments.
– Justin Koifman