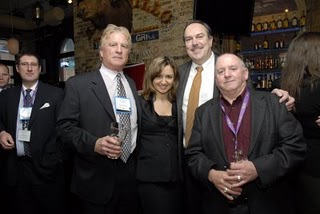 February 6, 2009, 7:08 pm
The 3rd Annual Post CICMA/CIAA Joint Conference Cocktail Party hosted by Blouin, Dunn LLP and Giffin Koerth was a huge success!
Over 250 guests enjoyed a cozy cocktail party at The Loose Moose Tap & Grill on Front Street in downtown Toronto. With beautiful Ford models, an amazing DJ, photo booths and gift bags full of loot, it was hard not to have fun! And to top it all off, a large buffet of gourmet comfort food was served, including mini hamburgers, hot dogs and s'mores,
For the third year in a row, Blouin, Dunn LLP and Giffin Koerth hosted the post-conference event for attendees and their family and friends. This year's party was the largest turnout to date.