This is so cool… I just had to share! On March 3, actress Bailee Madison (star of Bridge to Terabithia) was a guest on the Tonight Show. (She was promoting her movie Just Go With It.) After the show, Bailee presented Jay with his very own Gogo! It looks just like him!
How amazing is that? His very own personalized Gogo! I want one, too! 🙂
Bailee is such a great partner for Gogo's Crazy Bones! She's helping JDNA (the Gogo's North American distributor) with a huge One Million Piece Giveaway through Walgreens stores in the US. And get this: through JDNA, Bailee is donating $10,000 to the Starlight Foundation in celebration of the Giveaway!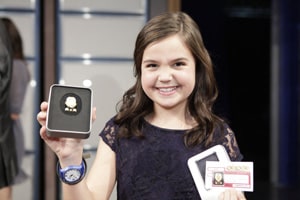 Wouldn't you want your very own Gogo? Tweet me at @natashankpr.
XO Natasha
Photographer:  Paul Drinkwater / NBC The Tonight Show