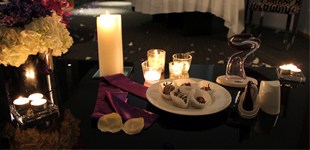 November 30, 2011, 9:31 pm
Some people refer to NKPRers as buzz builders. And a couple of week ago things got really literal when we helped launch the new We-Vibe 3 – the latest version of the world's most popular vibrator for couples. See? We weren't kidding about the buzz.
The thing is, most of us aren't talking about our sex lives, at least not in a real way, and we're definitely not talking about our vibrators. Seriously: when was the last time you and your girlfriends (or, for that matter, your boyfriends) had an honest conversation about your sex lives over Sunday brunch?
If your answer, like us, is "never" or "I can't remember", you'll understand why we invited sexpert, syndicated advice columnist, TV & radio host, and author Josey Vogels to spend the day with us talking about bad sex, good sex and even better sex with the We-Vibe 3 . Once dubbed "Canada's Carrie Bradshaw", Josey's been leading frank, refreshing and really really real conversation about sex for more than 20 years. If anyone could get the conversation going, we knew it would be her.
And not only was the conversation great (as one journalist tweeted: "That was so fun that I need a smoke") we learned A LOT about relationships, intimacy and yes, S-E-X. Plus, we got a chance to ask Josey a few questions of our own:
We already know men are from Mars, and women are from Venus. What else can you tell us about how men's and women's sexual needs differ?
"Men have sex to create intimacy. Women need intimacy to have sex. Women are generally nervous about introducing a sex toy into the relationship, because they think their partner will be threatened. What's great about the We-Vibe in particular is that it's designed for couples, so it may be less of an ego-blow for a guy. It addresses a woman's need (and desire!) for dual stimulation, but it's something you can both enjoy. And for guys, it can actually open him to the idea that there's more to sex than he thought."
Where are people buying sex toys? Are people shopping online because it's more discreet?
"Even if it's their first, most people prefer to buy a toy at a sex store because people who work in sex stores tend to be incredibly knowledgeable about what's available to fit your needs and what's worth spending money on. The idea of sex shops being 'smutty' or 'dirty' places isn't very accurate any more."
Since most of us have holiday shopping on the brain, how do you recommend giving a sex toy as a gift?
"Nobody wants to wake up Christmas morning and find a huge 3' dildo under the tree. If you're considering giving your partner a sex toy, no matter what time of year, you need to set the mood – especially if it will be a new experience for both of you. Candles, champagne, romance. Be open and honest about why you want to add this to the relationship. The We-Vibe 3 enhances intimacy and helps bring couples closer together. So maybe don't put it under the tree with the kid's toys…"