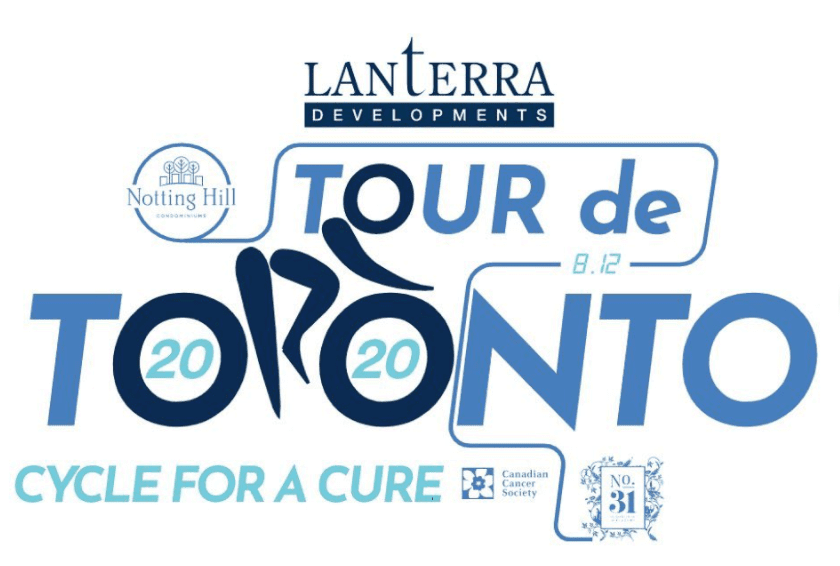 August 26, 2020, 12:33 pm
Coordinating an event amidst a pandemic isn't easy. The regulations and safety measures that need to be accounted for are greater, now, more than ever…which is why Lanterra's "Tour de Toronto: Cycle for a Cure" was one for the books! Our team is so grateful to have worked beside Lanterra to pull together a one-of-a-kind event that raised money for the Canadian Cancer Society and showcased Lanterra's newest developments in an incredibly innovative way.
On August 12, Lanterra became the first developer to hold a fundraiser via live stream – with a bikeathon! The event was designed to help agents, purchasers and business associates in the city explore the newly-expanded urban bike routes that surround Lanterra's real estate developments. Starting at Notting Hill Condos and finishing all the way down at No.31 Condos, the event was a huge success from start to finish. President and CEO of Lanterra, Barry Fenton, was proud to dedicate this bikeathon to the late Barbara Nash Fenton, his beloved wife who passed in 2017 after fighting a brave battle with cancer.
Hosted by none other than Maurie and Shem from KiSS 92.5 and emcee'd by our friend and media personality, Taylor Kaye, the energy could be felt across the city. We were even joined by the Mayor of Toronto, John Tory! The audience was kept engaged with exciting giveaways and performances by Sole Power, followed by a celebration in the Distillery District (with the BEST food truck options)!
With social distancing, safety and everyone's wellness top-of-mind, it was a new take on event planning for our team!
Follow @lanterradev to learn more and check out the livestream here.
XO
Team NKPR