Just as we were preparing to launch this column – a new weekly post highlighting the PR and social media hits (and misses) discovered during our web travels – the unthinkable happened.
An office-wide Internet outage, the result of a faulty router, forced us all to consider just how much we rely on an online connection to, well, make connections, inform our decisions and communicate ideas.
Since we couldn't resort to e-mail or iChat, we were forced to pick up the phone, get up from our desks and (gasp!) put the public back in public relations.
Kudos to André, our IT guru extraordinaire, who remained calm during countless, increasingly frantic questions of "do we have internet yet?", and (after a quick jaunt to the Apple store) got our connection back up and running so we could complete this post!
Ben & Jerry's Fair Tweets Campaign
It's not just our love of frozen sweet treats that made us melt for this campaign. Ben & Jerry's launched "Fair Tweets", a cool tool that helps spread the word about World Fair Trade Day by turning unused Twitter characters into a message about Fair Trade. At the time of this post, 463,819 characters had been committed to the cause. Cool, right?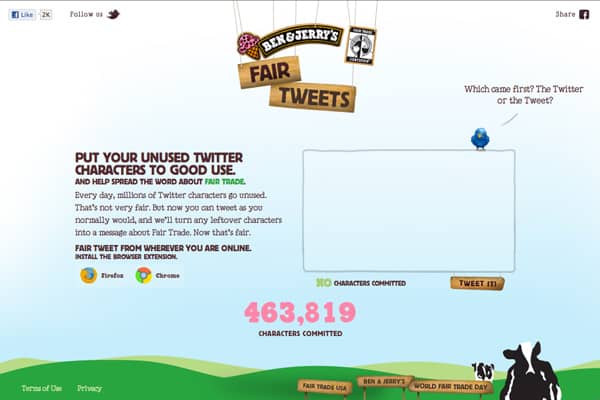 The Canadian Blog Directory
Virtual high fives to Mark Evans and Think33 on the launch of the Canadian Blog Directory at Mesh earlier this week! It's a PR dream come true and quickly shot to the top of our "bookmarked" list.
Influencers: How Trends & Creativity Become Contagious
In PR, we use the word "influencer" almost to a fault. This short documentary features interviews with leading creative pros about what makes an influencer and how trends develop. A must-watch if you've ever struggled to define exactly what and who an influencer is.
Got a link you think we'd love? Tweet us or share it in the comments.