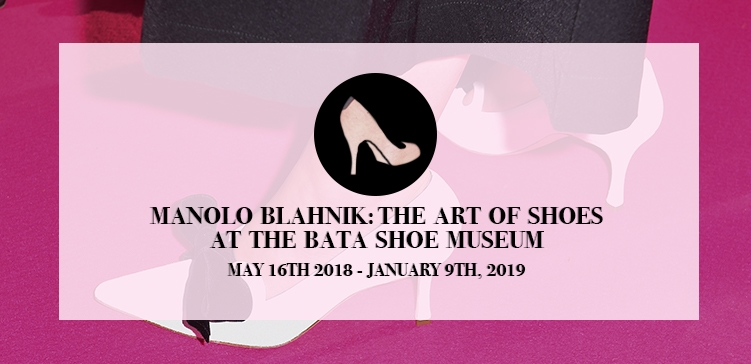 Manolo Blahnik at the Bata Shoe Museum
The amazing Spanish shoe designer, Manolo Blahnik, is now in Toronto for his final stop of the travelling exhibiton, Manolo Blahnik: The Art of Shoes! After visits in Milan, Saint Petersburg, Prague and Madrid, the retrospective exhibit is making its only North American stop at the Bata Shoe Museum. The exhibition opened to the public on May 16th, 2018 and runs through until January 6th, 2019.
For over 45 years, Manolo Blahnik's creativity has labeled his inventions as somewhere between fashion and art. Mr. Blahnik will be showcasing his designs from the early 1970's to modern day. The exhibit explores 200 of Mr. Blahnik's famed, elegant designs, including the heels he created for the 2006 film, Marie Antoinette. The show will also include 80 original drawings, video footage of Mr. Blahnik at work, and a glimpse into his creative process.
In the lead up to the opening, a press preview was held on May 15th to introduce Mr. Blahnik and his exhibition to Canadian media, providing interviews and a sneak peak into the gallery. A gala was also held that evening to celebrate the opening of the retrospective in Toronto and the end of its global tour. Mr. Blahnik arrived with his sister, Evangeline Blahnik, and his niece, Kristina Blahnik.
The Bata Shoe Museum also hosted a talk with Manolo Blahnik on May 16, 2018. In Conversation with Manolo Blahnik gave visitors a chance to listen to Mr. Blahnik discuss his thoughts on what truly inspires him, his views on the fashion industry today, and any and all details about the stunning exhibit.
Have you bought your tickets yet? Purchase them here.