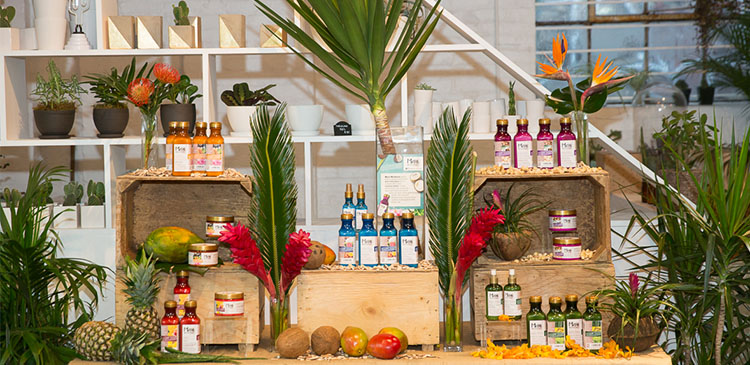 October 28, 2016, 8:40 pm
On October 26, a group of Toronto's beauty / lifestyle editors, bloggers and media personalities gathered at Crown Flora Studio in Parkdale for the first peek at innovative new haircare brand, Maui Moisture.
The group of 20+ attendees built moisture-rich terrariums inspired by the tropics, snacked on fruit & nut breakfast treats, and enjoyed fresh, cold-pressed juices from Greenhouse Juice Co. All terrarium botanicals and food ingredients were inspired by the island of Maui and featured some of the same key ingredients as Maui Moisture haircare products. 
Media and influencers were educated on the good for you, good for earth benefits of Maui Moisture. All of these new products – with gorgeous packaging to look like fresh juices – are vegan, gluten-free, eco-friendly, with no parabens, no silicones, and no synthetic dyes. Maui Moisture products are all made with 100% pure aloe juice as the first ingredient, which is unique to the brand. Media and content creators explore delicious scents from Coconut Milk to Shea Butter to Agave and Bamboo.
Following the successful launch in Toronto, Maui Moisture made its debut in Montreal at the William Gray Hotel on October 27, with a group of media and influencers in attendance for a botanical-rich terrarium workshop by Crown Flora, and a product demonstration of the brand new collections. Media shared their haircare stories and explored which Maui Moisture products were the right fit for their beauty routines.
All attendees in both cities walked away with their own Nourish & Moisture+ Coconut Milk or Thicken & Restore+ Bamboo Fibers collections to try! All Maui Moisture products will land in Canada at major drugstores as of January 2017.
Check out some pictures from our Toronto launches below!
Follow Maui Moisture on Instagram @MauiMoisture #MauiMositure!