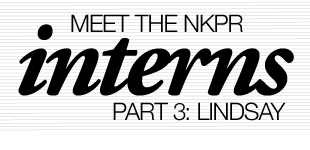 Summer always brings a fresh crop of interns to NKPR – and we're grateful for a few extra sets of hands, especially leading up to the Toronto film festival and the NKPR IT Lounge.
In return for bringing their enthusiasm and fresh ideas into the office, these aspiring PR stars get an all access pass to the inner workings of a leading boutique PR firm. It's a whirlwind course in creative communications, media relations and event production you just won't find behind ivy-covered walls.
Think you're up to the challenge? Get in touch to learn more about our internship opportunities.
***
At NKPR, we're the first to defend the benefits of a strong work ethic and relentless determination, but sometimes a little bit of luck goes a long way.
Case in point: intern Lindsay Cabrera, who's current gig at NKPR really was a product of being in the right place at the right time. Searching for a bartending job at one of the clubs in our neighbourhood, Lindsay happened across the NKPR office with a folder of resumes in hand. Needless to say, she went for it – and the rest is history.
Meet Lindsay!
What are you studying and where?
"I'm a graduate of the University of Western Ontario, with a degree in Social Science and a post-graduate diploma in Public Relations. Last year, I did a four-month public relations internship at Rogers and Cowan in L.A."
Why PR?
"I'm drawn to the dynamics of PR because every day is full of new and exciting projects. To work in a field where I can be creative and turn my imagination into a reality is motivating."
Salty or sweet?
"Sweet. I am the candy gal. Sour worms, gummy bears, peach rings… any kind of candy really."
Daily must-read:
"Perez Hilton. My guilty pleasure is celebrity gossip."
What's the most exciting/bizarre thing that's happened to you at NKPR?
"How I got the internship at NKPR is actually a bizarre story. I was making the transition to Toronto from London, ON, and I was applying to some of the clubs in the area for bartending. I was walking down Adelaide St. and saw the NKPR building. I stood out front and thought to myself 'NKPR? I know this place'. I Googled it on my BlackBerry, and it turns out I did. As a graduate in public relations I had done my research on Toronto's PR firms. NKPR was a firm I was very interested in, and because I stumbled upon it by accident I knew I had to go inside and hand in a resume. I believe that everything happens for a reason, and fate brought me here to NKPR."
When you were a kid, what did you want to be when you grew up? How about now?
"As a kid I wanted to be in a big city like New York, and work in a huge building in downtown Manhattan. I didn't know exactly what I'd be doing, but I had that much figured out, from watching movies. Now, I can say that my career goals and ambitions are much clearer. I love being here in Toronto, and I would still love to one day live and work in New York or L.A. I'd like to grow in my public relations career, and become a senior publicist for celebrity talent. I'm interested in entertainment, lifestyle, fashion and events PR."
Facebook or Twitter?
"If you asked me this question a year ago, I would have answered Facebook in a heartbeat. Ask me this now, and I would have to say Twitter. They're both great social media platforms, but Twitter has definitely grown on me. It's a great way to stay informed on daily news stories."
What company, brand or product would you love to work on?
"I would love to work on Artists for Peace and Justice (APJ). I think it's such an amazing non-profit organization. I have such a soft spot in my heart for the children of Haiti. Working on APJ would feel invigorating to be a part of an organization giving opportunity to the children of Haiti."
Favourite song-of-the-moment?
"I have about 1000+ favorite songs right now. I love music."
What's your idea of happiness?
"My idea of happiness is to be content. To be content means that I have everything in my life that I need. Nothing more, nothing less. It means to be mentally and emotionally satisfied with things as they are. It is to have a peace of mind."