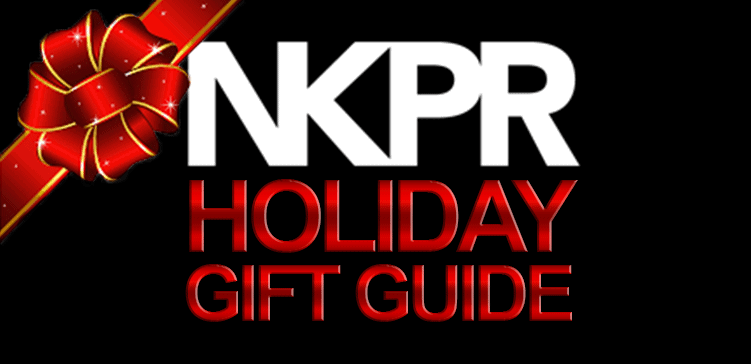 December 17, 2017, 3:40 am
2017 Holiday Gift Guide
This holiday season we've accumulated the best items for your budget. From gifts for those at the top of your list to the Secret Santa or Kris Kringle gifts with tight spending limits. Check out the list below before you head out on your next shopping trip!
Gifts under $30!
Thinking of good ideas for Kris Kringle gifts is one of the hardest shopping challenges during the holidays, especially with a max budget of $30… To help you out we've put together this list of gifts that everyone will want to steal (and won't break the bank)!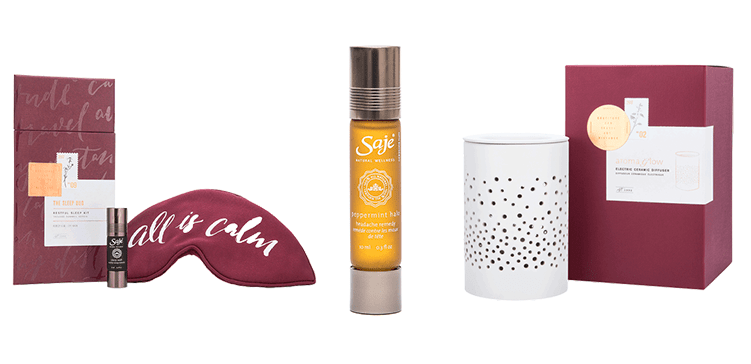 SAJE NATURAL WELLNESS
1. The Sleep Duo. With the hustle and bustle of the holiday season, who wouldn't want to quiet the brain and calm the body with restful sleep? -$24.95
2. Peppermint Halo. A roller headache remedy with a therapeutic blend ALL gift recipients will appreciate. -$26.95
3. Aromaglow Matte White electric ceramic diffuser. This flame-free ceramic diffuser holds the healing power of essential oils. Perfect for a snow day in! -$29.95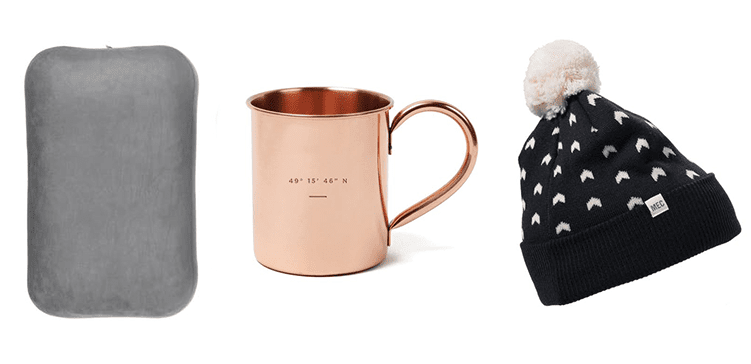 MEC
Deluxe Pillow. A touch of luxe for the campers and hikers on your list! This pillow is small and light enough to bring on backpacking trips or long-haul travels and can be inflated as much as you want to adjust its firmness and height. – $27 to $30
United By Blue Copper Mule Mug Vancouver. This cute laser engraved rose gold mug is the gift that keeps on giving- for every product sold, United By Blue removes 1 pound of trash from the world's oceans!  – $30
Unisex Pom Pom Hat. Everyone needs a staple pom pom hat in their winter wardrobe! With multiple prints and colours to choose from, you can't go wrong. -$16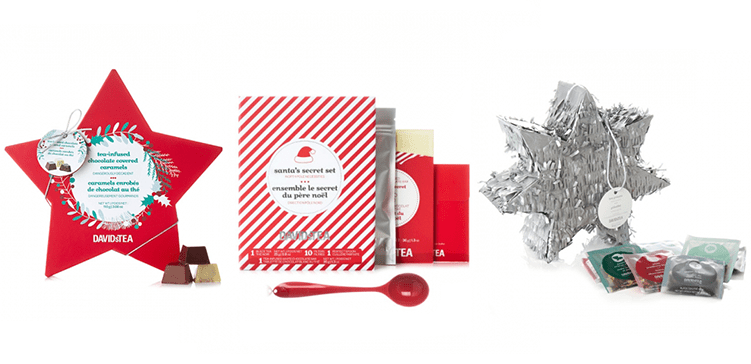 DAVIDsTEA
Tea-infused Chocolate Box. Give the gift of fine imported chocolates infused with delicious loose leaf teas. This will definitely become a holiday favourite! -$15
Santa's Secret Set. Everyone loves getting cozy by the fire during the holidays! This gift set includes Candy Cane-sprinkled black tea, a Limited Edition red Perfect spoon, and Santa's Secret tea-infused chocolate. It's the perfect remedy for a cold day! -$20
Tea Piñata. Celebrate New Year's Eve with 10 sachets of delicious tea after you burst open this fun piñata! This is great for a friend who loves some added magic! -$25
 Gifts under $100!
Take a look at these beautiful and unique gifts any loved one would be happy to unwrap! Check out the items below for the best gifts at the right price.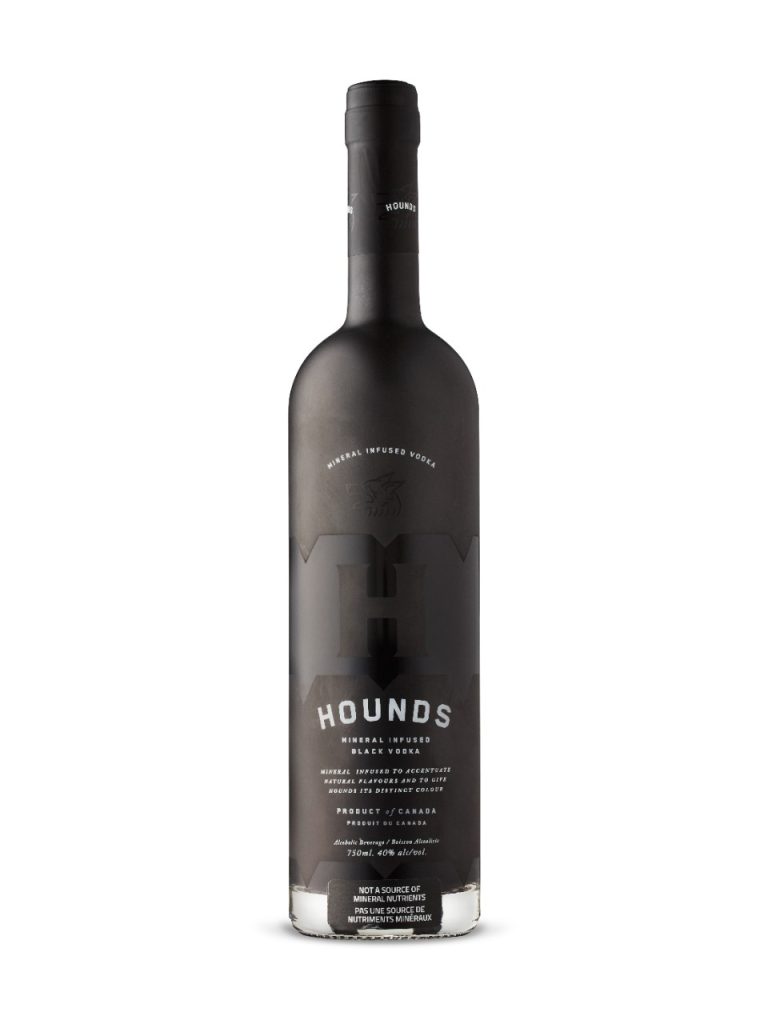 Hounds Black Vodka. Pour everyone a glass of this smooth, creamy, and jet black spirit this holiday season. Great for the cocktail connoisseur (or who like it straight up)! -$39.45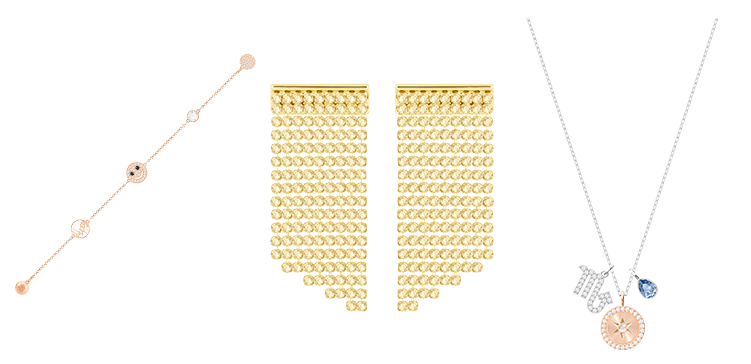 SWAROVSKI
Swarovski Remix Collection. With an invisible magnetic closure, you can blend different pieces to create a beautiful and personal look as a bracelet, choker, or necklace. This unique styling makes this the perfect gifting idea!
Fit Short Pierced Earrings. Complete a glam NYE outfit with these gorgeous crystal mesh earrings. It may come in a small box, but it will get the biggest smile!
Zodiac Pendant. This pendant will suit anyone on your list with these glittery horoscope signs!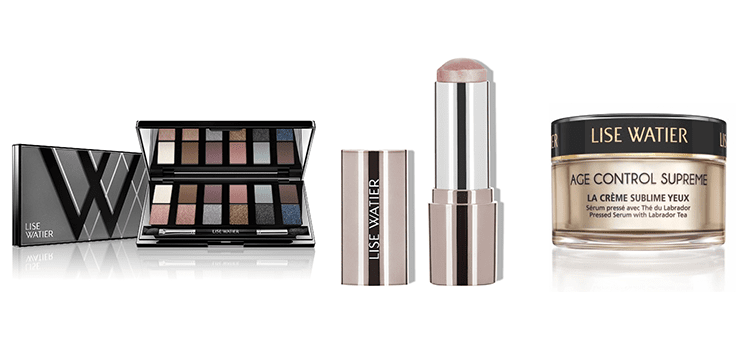 LISE WATIER
Smokey Nudes 12- Colour Eyeshadow Palette. This palette will give you an illuminating look all year round with this beautiful harmony of creamy nude shades! -$65
Lumistick Illuminating Highlighter. Add some shimmer to your gift list with this gorgeous highlighter! -$36
Age Control Supreme. – Give a gift worthy of the Gods with this pressed serum described as the holy grail! -$85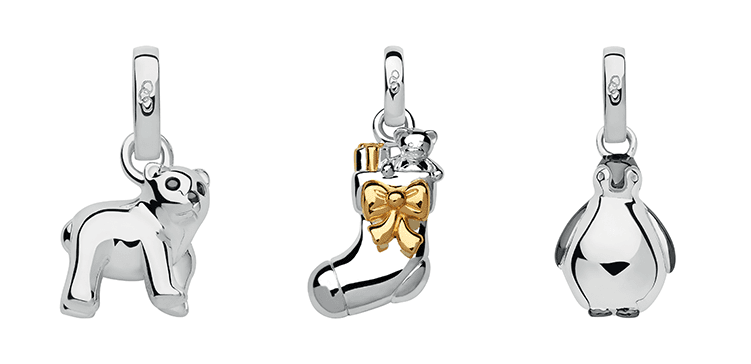 LINKS OF LONDON
Polar Bear Charm. Mark your spot on a friend's Sweetie bracelet with this adorable sterling silver Polar Bear charm! -$95
Stocking Charm. With a beautiful contrast of silver and gold, this charm will tell the story of all the cozy nights spent around the fire this holiday season. -$95
Penguin Charm. This loveable Penguin charm is perfect for the animal lover on your list! -$95