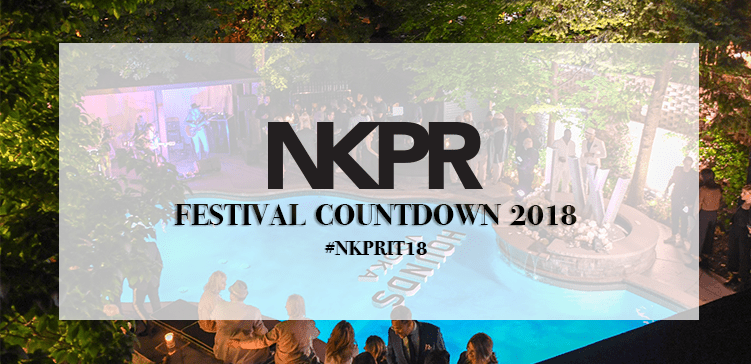 On Wednesday, August 23rd, we hosted our annual Festival Countdown to officially kick-off Film Festival season and #NKPRIT18, brought to you by Hounds Vodka and Lise Watier.
The night was filled with glamour and sophistication, with Swarovski crystals dazzling from the trees, fun activations that captured moments of the night and a plethora of refreshments and sweets (of course).
Upon entrance, a stunning Lise Watier tree was styled with twinkle lights, hanging crystals (hello, Swarovski!) and white roses as the backdrop for guests' shared photo booth moments. Designed by the talented Caspar Haydar Design, the entire event was completely stunning and the perfect atmosphere!
As guests mingled, Pusateri's served delicious hors-d'oeuvres throughout the night along with a full charcuterie spread with Joselito live ham slicing and a fresh mozzarella pulling station. There was something delicious for everyone and even a delicious sweets table that featured an #NKAllBlackEverything cake provided by Cakes by Mickey!
The cocktails for the evening were provided by Hounds Vodka, serving up signature and speciality drinks with their charcoal-infused black vodka, including "Ziggy Bardust" and "Hounds On The Rock". The "To The Moon and Black" cocktail was definitely a crowd favourite, made with fresh lime juice, creme de cassis and simple syrup, and served with blackberries! The bar was also stocked with Ace Hill Beer and various refreshing flavours of Flow Water.
For all that sparkles, guests could visit the Lise Watier makeup playground to get their makeup touched up with the best and newest products. Guests could also take home a personalized Lise Watier makeup compact embossed with Swarovski crystal lettering (Yes, please)!
The surprise musical guest was Toronto star Fefe Dobson, who put on an incredible set of her new songs to celebrate #NKPRIT18. She performed mid-party with her all-girl band with singles like "Get You Off" and "Love" perfectly combining the theme of film and music.
Near the end of the evening, breakfast was served with Tim Hortons, with their Breakfast Anytime items! Who doesn't love a breakfast sandwich at 10 PM? These late-night snacks gave guests one last chance to fuel-up and continue the festivities well into the night!
SHAYNE STEPHENS, SANGITA PATEL, CHRISTI HIMMELHEBER, AND GREGO MINOT
Thank you to everyone who celebrated the start of the film festival season with us!