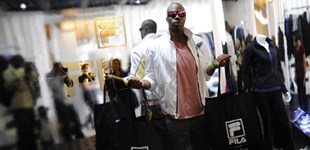 September 6, 2011, 1:52 pm
At NKPR, the film festival is our favourite time of year. And it's not just because of the IT Lounge, our can't-miss pop-up shop loaded with star-worthy finds, or the talented celebs who pay IT a visit.
It's because the film festival shines a global light on our city, and we get to share it and show it off to the stars, the media and all the other visitors who settle in for the cinematic action.
Looking for the best spots to star gaze, hang out or get a hit of festival-worthy style? We know just the place!
Here's part one in our film festival guide – featuring key festival hot spots, hip hangouts and where to plant yourself for some serious stargazing.
FESTIVAL HOT SPOTS
You'll recognize these locales by the throngs of camera-clutching paps, and eager fans with their cell phone cameras at the ready.
TIFF Bell Lightbox by Uncle Lynx on Flickr
TIFF Bell Lightbox (330 King St.W.) – This is the epicentre of all things festival! (And fortunately for us, right around the corner from NKPR!)
Roy Thomson Hall (60 Simcoe St.) – This true classic will be the site of many a film festival gala, including the premiere of George Clooney's directorial debut The Ides of March.
The Ritz-Carlton (181 Wellington St.W.) – add text about HELLO Canada party
***
HIP HANGOUTS
The city's best luxe lounging spots!

Kardinal Offishall at the IT Lounge in 2010
TORO After Dark (Ame, 19 Mercer St.) – The toast of the 2010 film festival, on Friday, September 9, this special cocktail event will benefit international charity Artists for Peace and Justice with co-hosts that include Academy Award-winning director Paul Haggis, Gerard Butler, Jason Reitman and George Stroumboulopoulos presiding over a crowd of celebrity supporters. On September 10, industry insiders can drop in after a screening or a meeting at their hotel, have a drink and enjoy the company of other filmmakers. It's the perfect evening destination for VIPs!
IT Lounge (312 Adelaide St., Invitation Only) – You never who will pay our celebrity gifting suite a visit… Just check out our photos from the past few years!
Ultra Supper Club (314 Queen St.W.) – They'll be no shortage of beautiful people at this "ultra" chic club.
Thompson Toronto (550 Wellington St.W.) – Our pick for the best place to enjoy a rooftop round and a view of the city.
***
SERIOUS STARGAZING
These are the spots where the "Stars are just like us!" segments in the gossip rags will be shot!

The Holt Renfrew flagship on Bloor Street. Via Alanah on Flickr