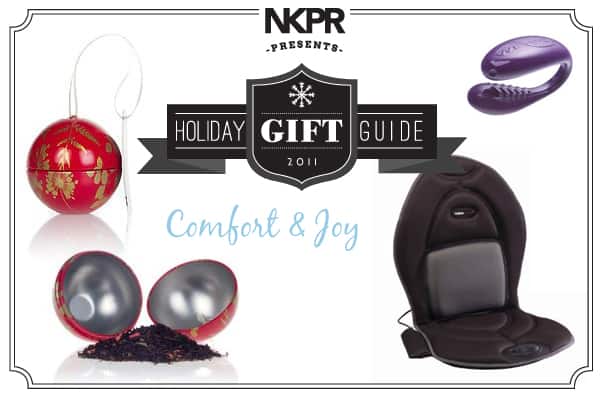 December 8, 2011, 11:01 pm

We've had gift guides on the brain since at least mid-July, so it's time we shared our carefully curated list of festive finds. We'll be sharing a few of our faves every day this week, so be sure to check back! Today: Comfort and Joy. That's what the holidays are all about!
David's Tea for the Tree
Perfect for: Your Frazzled Friend
Because: She's used to scheduling sips of her hot bevvie between emails, meetings and texts, so setting her up to decompress during the holidays will be the best gift you can give. These adorable little ornaments come pre-filled with one of three seasonal teas and are the best-smelling way to dress up a gift.
Worth Every Festive Penny: $4.50 each/ 3 for $12
Where to Get It: DavidsTea.com and in store
We-Vibe 3
Perfect for: Your Lover (who else?)
Because: Mistletoe will only get you so far. If you really want to spice things up in your relationship, gift your love with something that will bring a whole new vibe to the bedroom. Or the shower. Or the kitchen floor. You get the point.
Worth Every Festive Penny: $159.99
Where to Get It: Leading drugstores, boutiques and adult novelty stores worldwide, and we-vibe.com
Obusforme Personalized Comfort Driver's Seat
Perfect for: Your Favourite Chauffeur
Because: If you've ever been packed in the family van en route to Christmas dinner at Grandma's, you know this holiday travel scenario is destined for the farthest place from comfort or joy. Actually, driving anywhere during the holiday season – mall parking lots: we're looking at you – can turn even the most Zen merrymaker into a road rage-aholic. All it takes to dispel holiday driving stress is a few moments with the soothing heat and massage built into this driver's seat. Bonus: inflatable lumbar support ensures greater comfort while you're battling it out for a parking spot.
Worth Every Festive Penny: $89.99
Where to Get It: Major retailers across Canada
A Donation to Artists for Peace & Justice and Camp Oochigeas
Perfect for: Making Your Holiday Budget Count
Because: "Gifts that give back" isn't just a catchphrase. Even a small donation can make a life-changing difference. NKPR's charities of choice have several budget-friendly options that make it easy to add charitable giving to your holiday to do list. Artists for Peace & Justice builds schools to serve the poorest areas of Haiti, providing an education, hot meals, clean drinking water and regular medical treatments to the children living in the slums. A donation of $120 buys a child's books for year (that's only $10 per month!).
NKPR is also proud to support Camp Oochigeas, a camp for children with cancer that also offers year-round programs for children affected by childhood cancer at their site in Muskoka, at SickKids Hospital, at the Ooch Downtown facility in Toronto and in the community. A few donation options: $25 buys sunscreen and bug spray to help keep campers protected. $100 buys art and crafts supplies for 10 kids who are on 8B, the bone marrow transplant ward at SickKids Hospital.
Worth Every Festive Penny: Wouldn't you agree?
Where to Make A Donation: apjnow.org / campooch.org