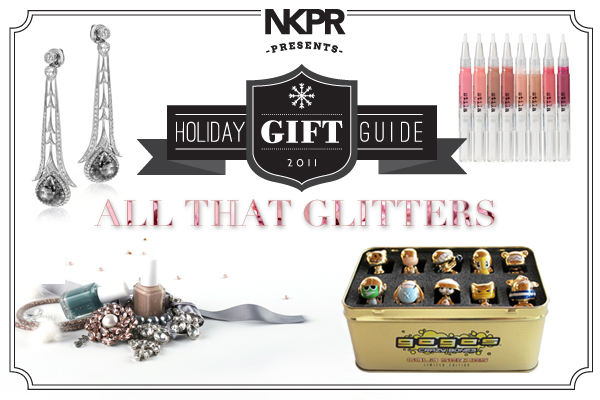 December 6, 2011, 9:35 pm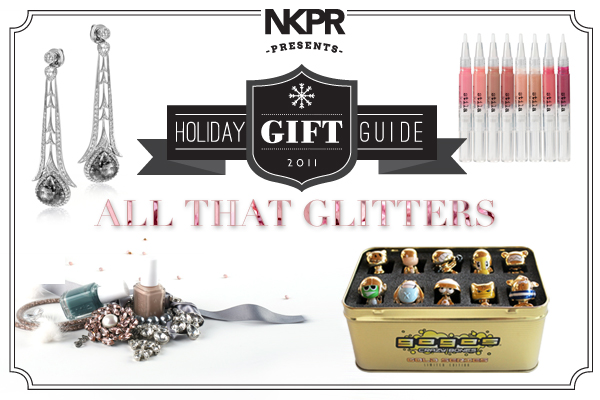 We've had gift guides on the brain since at least mid-July, so it's time we shared our carefully curated list of festive finds. We'll be sharing a few of our faves every day this week, so be sure to check back! Today: all that glitters. Since everything seems to sparkle during the holidays, we rounded up a few of the brightest gifts for kids, sisters, glam girlfriends and more.
Gogo's Crazy Bones Gold Series Gold Tins
Perfect for: The Wee Ones
Because: Limited-edition toys trump all other Christmas toys. Packed in a shimmery gold tin, Gogo's Crazy Bones Gold Series includes 10 super-shiny collectable Gogo's that are sure to be a holiday hit with the littles in your life. Pair them with a Gogo's play mat ($12.99) or carrier bag to up your cool Aunt/Uncle factor.
Worth Every Festive Penny: $19.99 CDN
Where to Get It: Mass toy and speciality retailers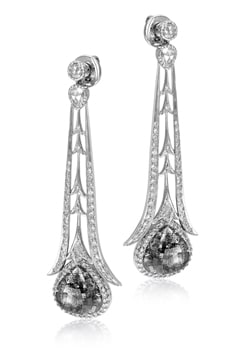 Classic Creations 18K White Gold Grey Slice Diamond Earrings
Perfect for: The One Woman You Need to Impress
Because: Let's face it, nothing impresses like diamonds. These gorgeous earrings are definitely a luxury, but when you do a little cost-per-wear math, keeping in mind that she'll likely wear these for every New Year's Eve party, birthday, wedding and other major celebratory event for the next 20 years, she's worth the splurge. Plus, a gift like this pretty much guarantees you a spot on her "nice" list for the rest of your life.
Worth Every Festive Penny: $10,500
Where to Get Them: Classic Creations
Stila Cosmetics Holiday Lip Glaze Set
Perfect for: Your Sassy Sister
Because: When you were kids, her pouting bouts were legendary, but these days her pout is about looking mistletoe-ready. With four existing Stila classics and four holiday exclusive shades, these super high-shine glosses are guaranteed to deliver long into the New Year.
Worth Every Festive Penny: $33 CDN
Where to Get It: Shoppers Drug Mart Beauty Boutiques and Murale

essie Cocktail Bling Collection
Perfect for: The Glam Girl
Because: Her jewellery box is stacked with enough bling; it's time to trick out her nails. If she isn't already coveting the season's It shade (Bobbing for Baubles, second from the right up there), chances are there's another shade from this collection on her wish list. Perfect in her stocking or as a glam little gift topper.
Worth Every Festive Penny: $9.99 CDN
Where to Get It: Shoppers Drug Mart, salons and other major leading retailers
Tomorrow in our gift guide series: Comfort and Joy! Missed yesterday's Gift GUYde? We found the best gifts for boys (and men).