December 5, 2011, 10:50 pm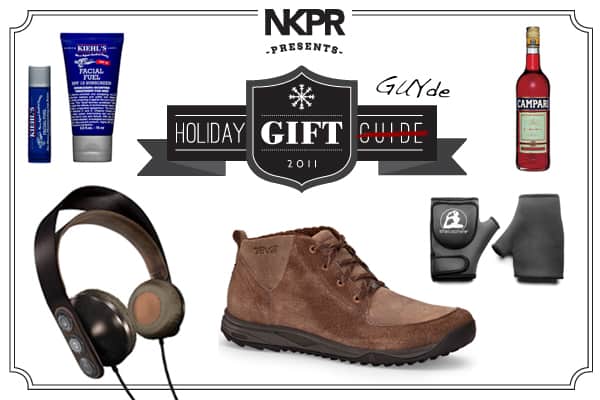 We've had gift guides on the brain since at least mid-July, so it's time we shared our carefully curated list of festive finds. We'll be sharing a few of our faves every day this week, so be sure to check back! First up: what to buy for the boys. 

House of Marley Exodus Headphones
Perfect for: Your Music-Snob Brother
Because: If anyone's tired of holiday muzak, it's him. Not only will he dig the superior sound-quality (bass-tastic!) and eco-cool styling, $1 from every House of Marley purchase goes to local charity MusiCounts, who work toward bringing music education to all Canadian children, regardless of socio-economic backround. That's like two gifts in one.
Worth Every Festive Penny: $169.99
Where to Get It: FutureShop.ca

Stratusphere Living Fit Gloves
Perfect for: The Jock
Because: He may balk at the idea of wearing a piddly one-pound weighted glove, but let's see how Mr. Tough Guy feels after adding them to his regular workout routine. Developed by former WWE champion Trish Stratus, these weighted gloves are a muscle-toning game changer (even if you're just sitting on the sidelines). Pair them with a Stratusphere Living yoga classes and he'll be feeling the burn before the New Year.
Worth Every Festive Penny: $24.99
Where to Get Them: Available at Sears, GNC, Home Outfitters, Sportchek, London Drugs and www.trishstratus.com.
Campari
Perfect for: The Wannabe Mixologist
Because: You can count on others to offer up mainstays like whiskey and rum, but if you want your gift to stand apart, you've got to look beyond bar basics. Not only is Campari the perfect shade of holiday red, it's the foundation for classic cocktails such as a Campari and Soda garnished with orange peel, or the Negroni, made with equal parts Campari, gin and sweet vermouth.
Worth Every Festive Penny: Approximately $25 (750 mL)
Where to Get It: Available internationally

Kiehl's Facial Fuel SPF 15 and No-Shine Moisturizing Lip Balm
Perfect for: The Boyf Who "Borrows" Your Moisturizer
Because: He may argue he doesn't need products (even though your beloved Creme de Corps disappears on the regular), but you know your dude's skin needs just as much TLC as your own. Stock him with a selection of goods from Kiehl's Facial Fuel Collection in macho-macho-man blue packaging, and say hello to more smoochable skin. It's a win-win. Two great options: NKPR Guy André swears by Facial Fuel SPF 15 and No-Shine Moisturizing Lip Balm.
Worth Every Festive Penny: Facial Fuel SPF 15, from $35; No-Shine Moisturizing Lip Balm, $12
Where to Get It: Kiehl's.ca and Kiehl's Since 1851 Stores

TEVA Bishop Peak Chukka
Perfect for: Any man still wearing those horrible rubber, slip-on galoshes.
Because: There's nothing redeemable about the aforementioned affront to style, but slush-filled shoes are hardly a favourable alternative. These hard-working TEVAs will keep his tootsies toasty, even if he won't admit it.
Worth Every Festive Penny: $170
Where to Get It: TEVA.com
Tomorrow in our gift guide: All That Glitters!