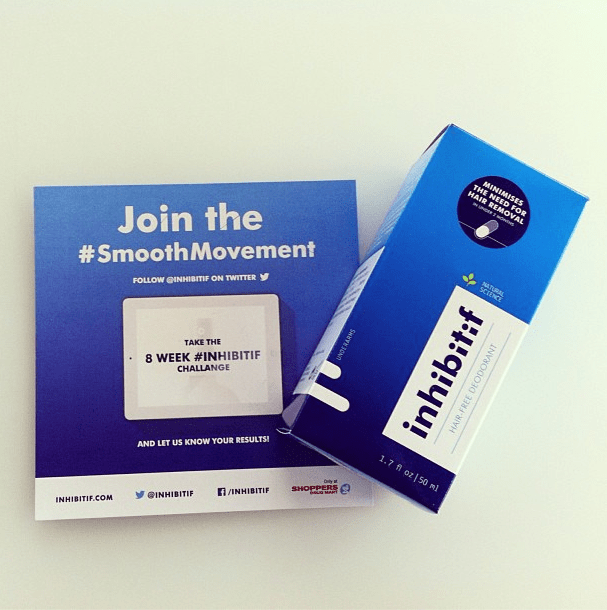 Let's face it: no one likes frequent shaving or waxing. Don't get us wrong – it's nice to be smooth and hair free, but given the opportunity most of us would skip the pain and time spent on this annoying yet necessary task. We've been introduced to Inhibitif and it looks like our prayers have been answered! A serum applied twice a day for 8 weeks that reduces the prominence and density of hair? Count us in.
So how exactly does the formula work? The serum promises to thin hair in conjunction to regular hair removal, with the end result meaning less frequent hair removal and lasting smoothness. The serum comes in a spray format that you apply evenly on shaved or waxed body areas twice per day for 2 months, or until unwanted hair appears nearly invisible (imagine our excitement). You then reduce usage to 3 times per week to maintain results. We learned that Inhibitif is different from a depilatory, which removes hair temporarily. Inhibitif reduces the apparent rate of hair growth over time so that you have to remove hair less often.
Intrigued, the NKPR team is taking part in the Smooth Movement – an 8 week challenge where we will be tracking our experience and reporting our results. We've rounded up a group with diverse hair types, each of us testing out one of the 3 available products for face, body or underarms.
Did you know?
According to Cosmo Magazine, women spend an average of 72 days of their life shaving…ugh! Tell us how you'd spend those 72 days instead for a chance to win Inhibitif and join the #SmoothMovement!
To enter:
1. Follow @inhibitif and @natashankpr on Twitter
2. Tweet @NatashaNKPR and tell us how you would spend those 72 days, whether it be vacationing to Europe, travelling to Asia or catching up on beauty sleep and tag @Inhibitif #SmoothMovement!
Stay tuned for our two week progress update!