Warm temperatures, palm trees, beautiful architecture…we can't get enough of Los Angeles! With so many exciting happenings last week including the Artists for Peace and Justice Pre-Oscar Charity Soiree (and the Oscars themselves!) we're sharing our favourite places to eat, sleep and shop in LA.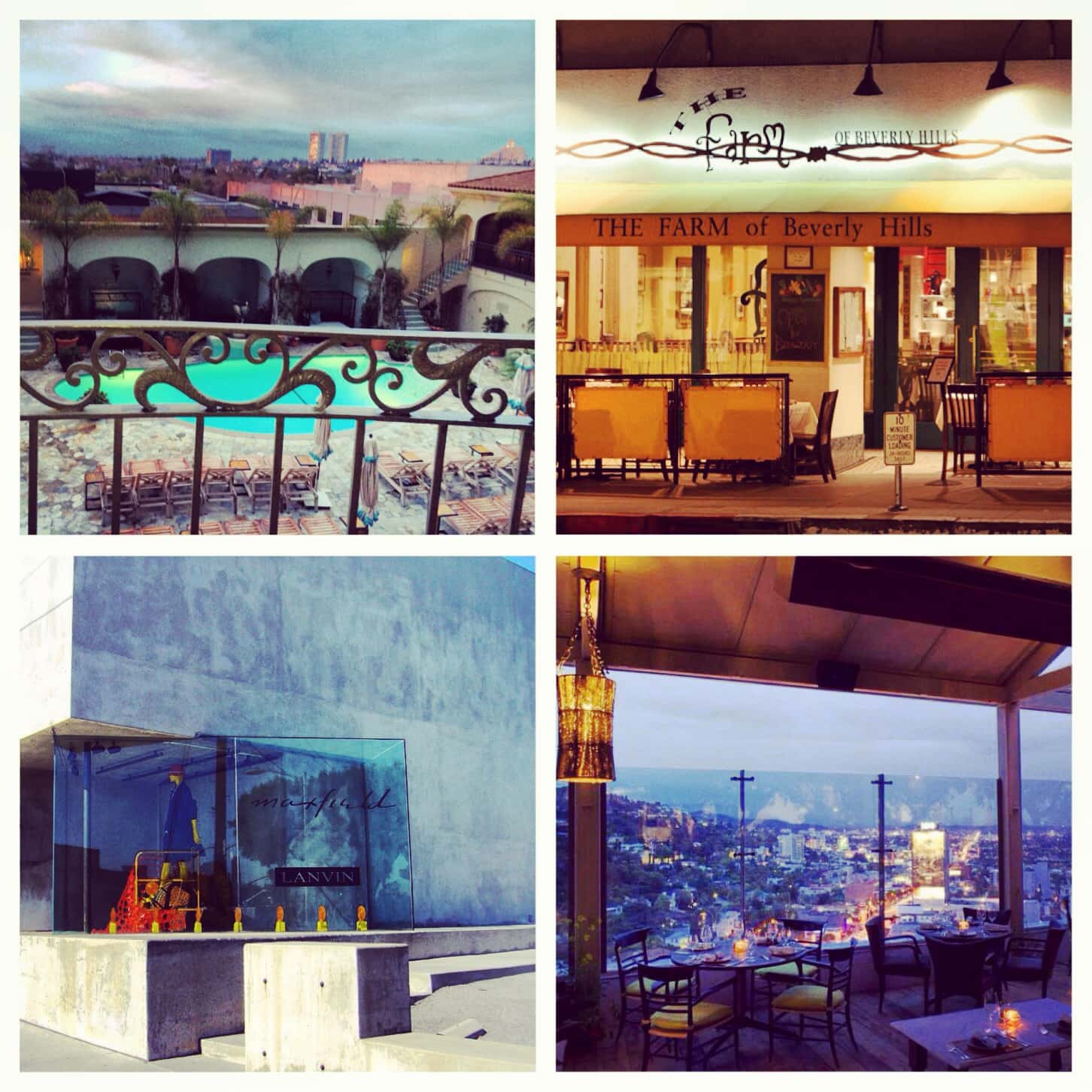 From Left: The Beverly Wilshire Hotel, The Farm of Beverly Hills, Maxfield and The Soho House
Beverly Wilshire Hotel
Not only was this the hotel where Pretty Woman was filmed, it's also one of the most beautiful hotels to visit in LA (the Mediterranean-inspired pool is a definite highlight). The service is absolutely incredible…and the bed is almost too comfortable (warning: you'll be tempted to stay in bed all day!)
The Farm of Beverly Hills
The food here has a delicious home-cooked taste and the atmosphere is cozy with classic farm interiors. Also, the Chocolate Whoopie cookies are to die for.
Chateau Marmont
A must-see for the beautiful courtyard! This is a great place to stop by for some relaxation and retreat from the city bustle.
Melrose Place
Taking a stroll along Melrose Place is one of our favourite ways to spend an afternoon in LA; traffic is sparse, and the flowers and architecture makes for beautiful views! It's known as LA's 'Luxury Destination,' with shops that have an intimate, quaint vibe. Hint: it may one day become home to a NKPR office!
Soho House
We love it for its intimate, classic LA vibe and amazing drink selection (not to mention incredible patio bar views!)
Runyon Canyon
If you're looking to get active and explore the more natural areas of LA, this offers the best hiking experience…stunning views!
Cecconi's West Hollywood
Hands down the best Italian Pasta and Tuna dishes we've had in LA. The fare is fresh and authentic…order the cicchetti (Italian tapas) for a truly European dining experience!
Maxfield
A celebrity shopping destination, Maxfield boasts a unique modern interior that's a work of art in itself, not to mention an incredible collection of designer pieces…truly iconic!
Love LA? Where are your favourite places to sleep, shop & dine? Tweet us at @natashankpr!