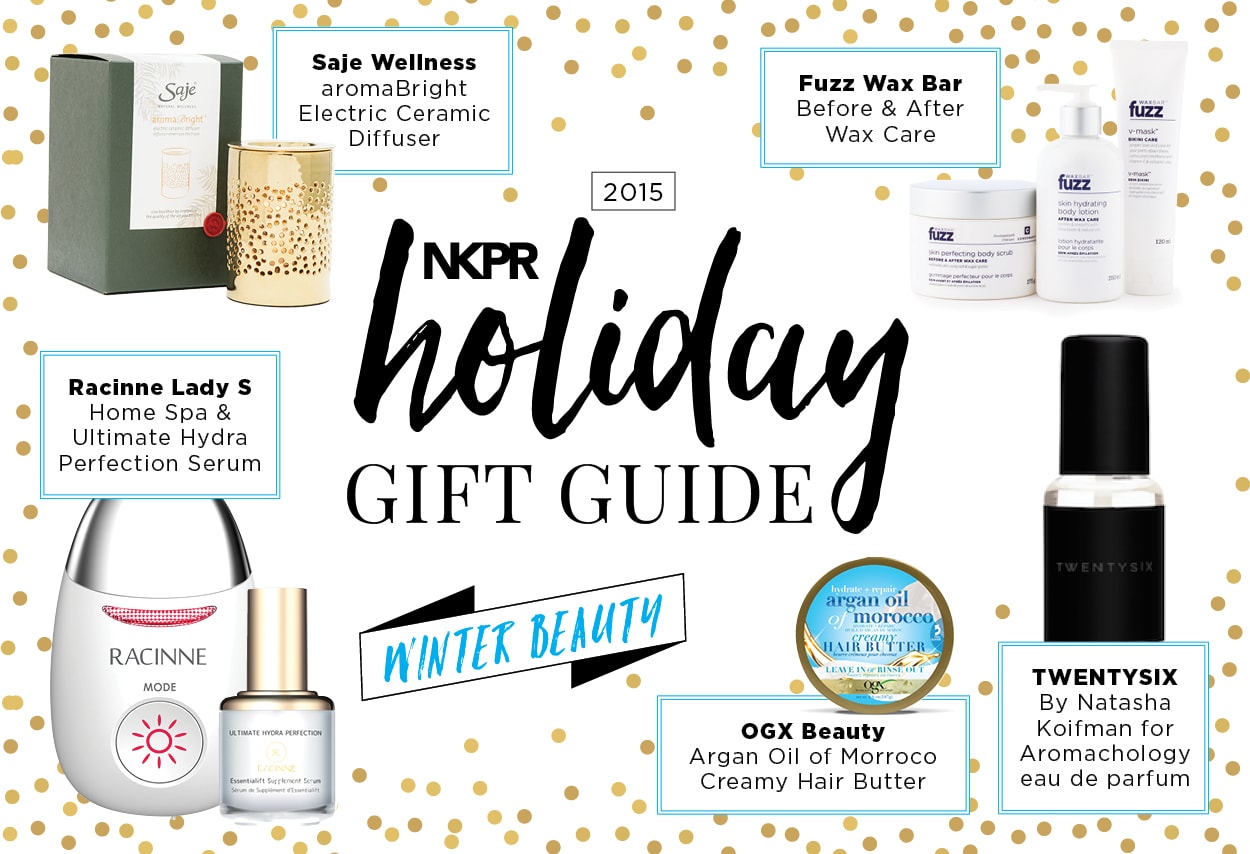 December 19, 2015, 5:36 pm
At NKPR, we start thinking about gift guides pretty early in the year (think 30 degree weather and open-toe sandals early!)… And with the holidays creeping up ever closer, we thought it was time to share our favourite picks of the season! Behold, we've put together the ultimate 2015 gift guide with the best of beauty, wellness, fashion, home & more.
Winter Beauty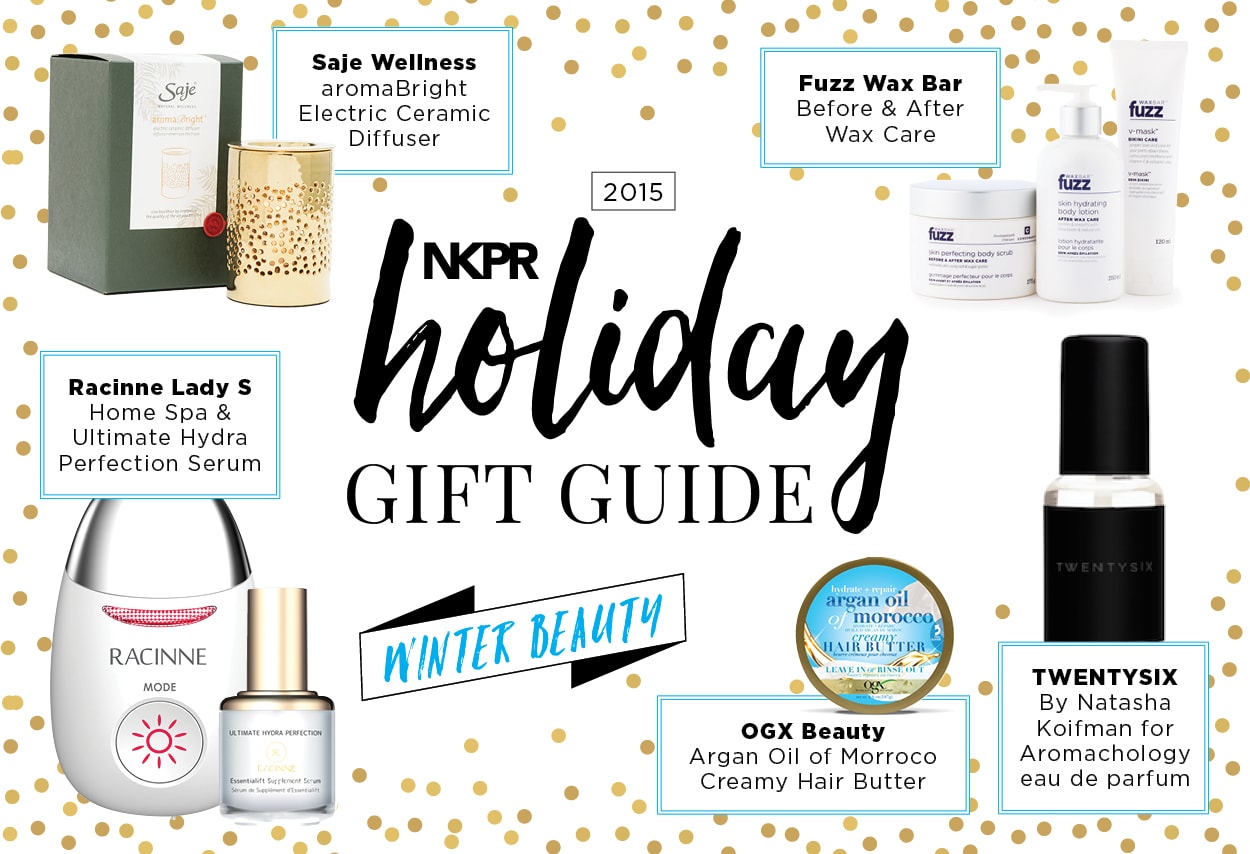 Who doesn't love receiving something a little self-indulgent? From beautiful-smelling home décor to the beauty products we couldn't live without… we rounded up our favourites to keep you feeling merry and bright this season!
Saje Wellness aromaBright Electric Ceramic Diffuser
At NKPR, you can always count on the sweet scent of Saje Wellness drifting through the office. Bring the healing power of essential oils into any room of your home or office this season with the festive aromaBright Electric Ceramic Diffuser! Choose from gold, silver or white.
OGX Beauty Argan Oil of Morroco Creamy Hair Butter
Face it: with the winter chill comes dry, damaged hair. Enter OGX Beauty's Argan Oil of Morocco Creamy Hair Butter! Infused with argan oil, shea butter extract and more, this leave-in or rinse out treatment is a winter refuge for soft, shiny hair!
TWENTYSIX by Natasha Koifman for Aromachology
The gift that gives back… Created in collaboration with Aromachology, this philanthropic fragrance is the gift that will make you smell good AND feel good! 100% of Natasha's profits from each sale of TWENTYSIX will go directly to a cause that means so much to us: Artists for Peace and Justice (APJ) and the children of Haiti.
Racinne Lady S Home Spa Device + Hydra Perfection Serum 
We've been huge fans of Korean skincare line Racinne for a while now and love the Lady S Home Spa Device. Pamper the beauty lover on your list this year with this portable 5-in-1 beauty gadget designed to firm and tone the skin, reduce puffiness, minimize pores and leave the skin with a youthful glow. Pair it with the ultra-luxe Hydra Perfection Serum to for that extra boost of moisture for the cold winter months ahead.
Fuzz Wax Bar Pre and Post Wax Care Collection
Give the gift of Fuzz this season! The wax bar recently launched its own skincare line designed specifically for pre and post wax care – but also as the perfect product to complement your everyday routine. The range of products is 100% natural, including a Skin Perfecting Body Scrub, Skin Hydrating Body Lotion and the ever-famous V-Mask!
For Her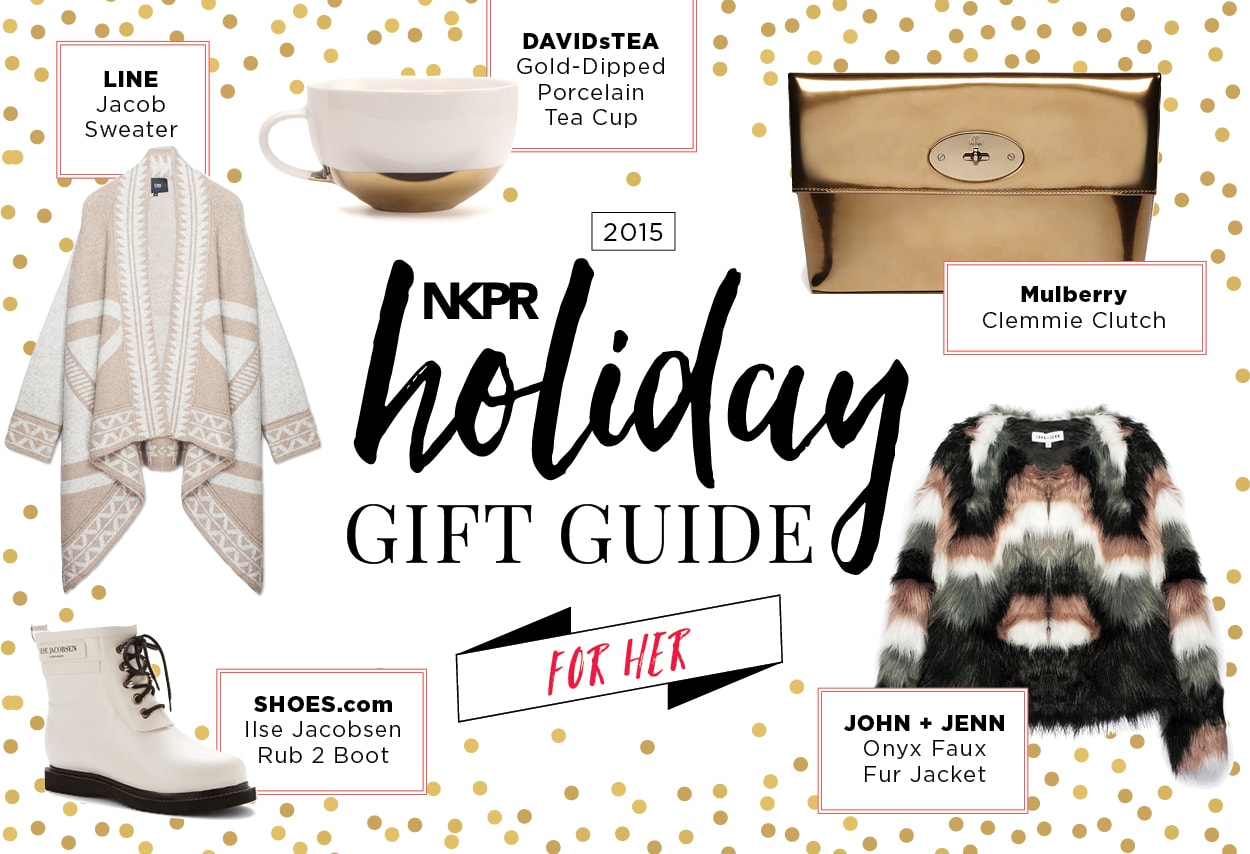 For the fashionista in your life! Whether her style is uptown chic or downtown cool, our selection of gifts for her are sure to put a smile on her face!
LINE Jacob Sweater
No one does knitwear quite like LINE! We chose the Jacob sweater for the most stylish girl on your list. It's perfect for cozy nights curled up on the couch watching all of the Holiday movie classics (like Love Actually & Home Alone!)
JOHN + JENN Onyx Faux Fur Jacket
As the temperatures drop lower and lower, it's difficult to find an outwear option that offers both fashion and function. We love JOHN + JENN's Onyx Faux Fur jacket for just this reason… it combines comfort, style & warmth! It's the gift that will make someone cozy (and fabulous looking) from the inside out!
Mulberry Clemmie Clutch
We love this metallic clutch from Mulberry's metallic collection. It makes the perfect carry-all when hopping from one holiday soiree to the next! and who wouldn't want to unwrap a little #MulberryMagic this season?
DAVIDsTEA Gold-Dipped Porcelain Tea Cup
There's nothing more comforting than a hot cup of tea on a cold night during the holidays. Even more so when it's sipped out of a beautiful tea cup! Give the gift of DAVIDsTEA with this dreamy gold-dipped porcelain tea cup!
‪SHOES.com ‬Ilse Jacobsen Rub 2 Boot
The snow hasn't started falling yet but when it does, we'll be ready with these Ilse Jacobsen Rub 2 boots! The perfect mix of style and function, these cool kicks will make any girl's holiday wish.
For Him
We're taking the guesswork out of finding the perfect present for the man in your life. Whether your boyfriend, brother-in-law or dad, we selected unique items that are sure to top his wish list this year!
RUDSAK Charleroi Aviator Jacket
A warm winter jacket is a necessity for those of us living in Canada, but warm doesn't always equal stylish. Enter RUDSAK's Charleroi Aviator jacket. Shearling paired with a fur collar make it the perfect topper for the sartorialist who wants to look good and battle the cold at the same time!
PATRICK ASSARAF Short Sleeve Crew Necks
For the man with Effortless Style, we love PATRICK ASSARAF's Pima Stretch Short Sleeve Crew Necks! This ultra-soft t-shirt combining 95% Peruvian pima stretch cotton with 5% spandex, resulting in an elevated luxury basic that forms the foundation of countless looks!
SHOES.‬com Richer Poorer The Long Weekend 3 Piece Gift Pack
Let's face it, it's not the holiday season without unwrapping a few Paris of socks! We love SHOES.com brand Richer Poorer for their stylish selection. Gift the man in your life with The Long Weekend 3 Piece Gift Pack, perfect for the trip home or a New Years Eve ski weekend!
Stocking Stuffers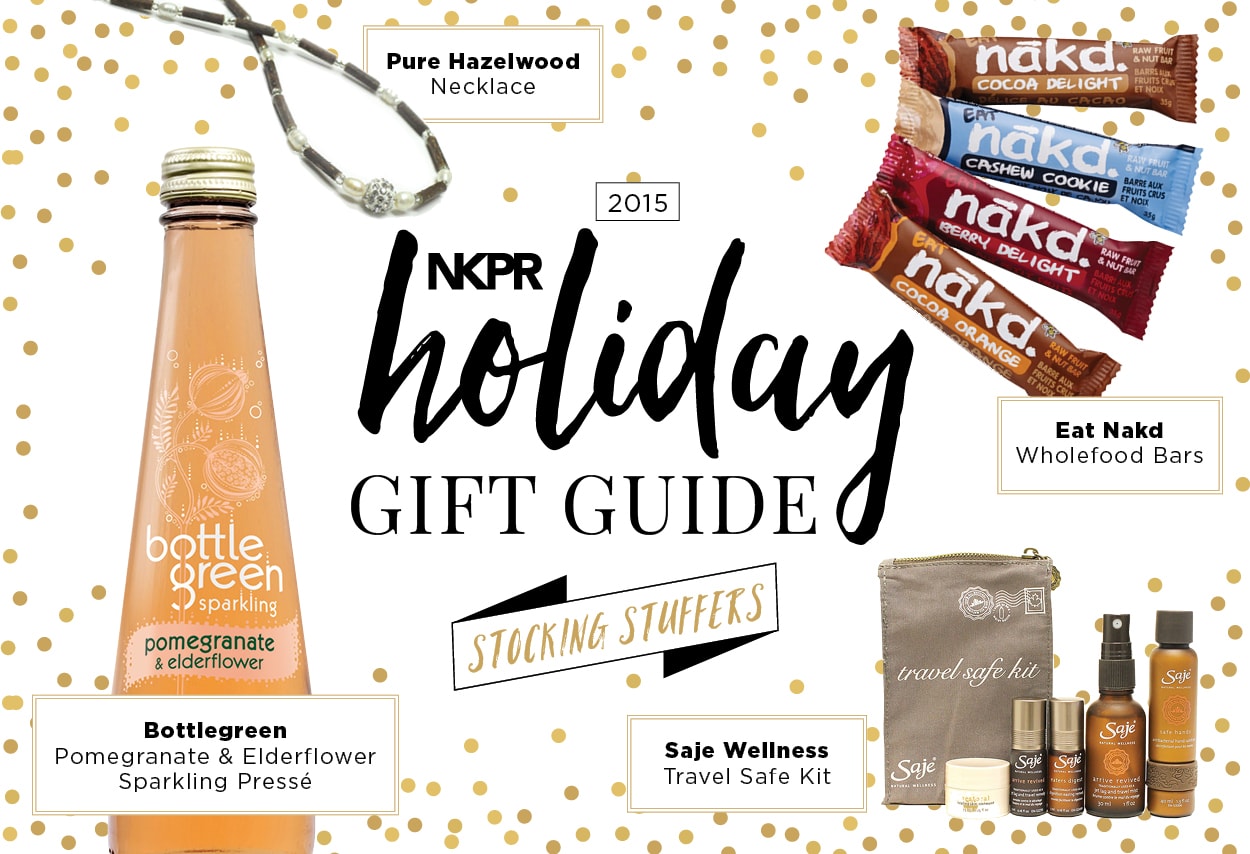 Check off the last of your gift list with these fun and festive stocking stuffers for your loved ones. Because let's be honest, everyone's favourite part of Christmas morning is opening their stocking!
Bottlegreen Pomegranate & Elderflower Sparkling Presse
We love sipping Bottlegreen at the office… Not only does it make the perfect stocking stuffer for the drink lover on your list, the Pomegranate & Elderflower Sparkling Presse is a perfectly festive addition to your holiday meal or cocktail menu!
Eat Nakd Wholefood Bars
The holidays are inevitably a time to indulge, but why not help your nearest and dearest get ready to hop back on the healthy band wagon come the New Year! We love these vegan, dairy-free, gluten-free snack bars… great for travel or snacking on-the-go!
Pure Hazelwood Necklace
Give the gift of natural healing this season with Pure Hazelwood, perfect for the entire family! From your Frozen-obsessed niece to your mom and grandparents, Pure Hazelwood products offer natural healing properties in a fashionable way!
Saje Wellness Travel Safe Kit
No one wants to get sick during the holidays but it tends to be the time of year when stress is high, temperatures are low and travel takes its toll. Gift your loved ones with Saje Wellness' Travel Safe Kit! A collection of products to help stay healthy and energized throughout the busy holiday season.
What will you be gifting your loved ones this year? Tweet us @natashankpr!
Happy Holidays!
Love,
NKPR