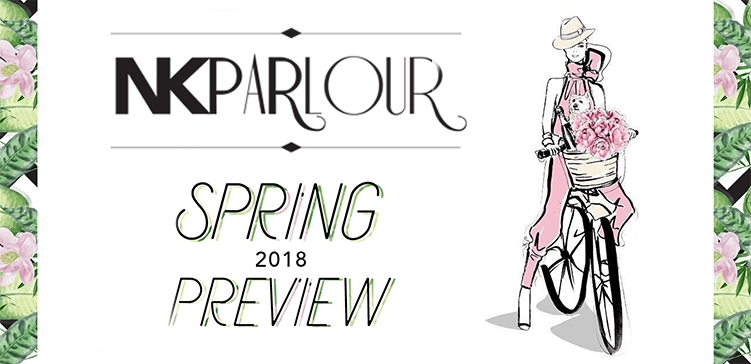 December 1, 2017, 7:58 pm
Welcome to the NKPARLOUR!
We recently sprung into spring with our 2018 Spring Preview! Hosted at the NKPR base, guests and media were given a sneak peak of what's trending next season.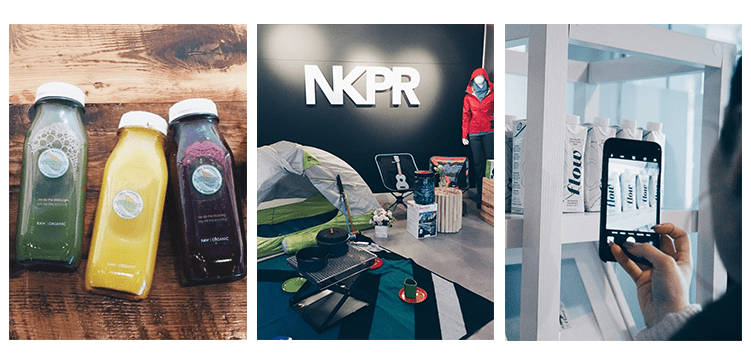 To kick start the day, Guests were greeted with tasty drinks and snacks provided by our sponsor Revitasize!
Upon entering the NK Parlour, guests could go camping in B.C., explore Iceland, and backpack through Vietnam with MEC! Their Spark 1 Tent was displayed (a popular area for photo-opps), an ultra light one-person tent with tons of interior space and a nylon mesh canopy for breathability. MEC's Timbuk2 Tandem Panniers were a hit with guests, as presented for the 'Urban Commuter' (how fitting for us in Toronto)! Attach them to your bike for a pair of weatherproof saddlebags, or utilize their magnetic closure for use as a slim shoulder bag!
With all that travel you have to remember to hydrate! Flow Water joined the party, announcing new flavoured water. Cucumber Mint and Lemon Ginger will be among the new flavours coming soon!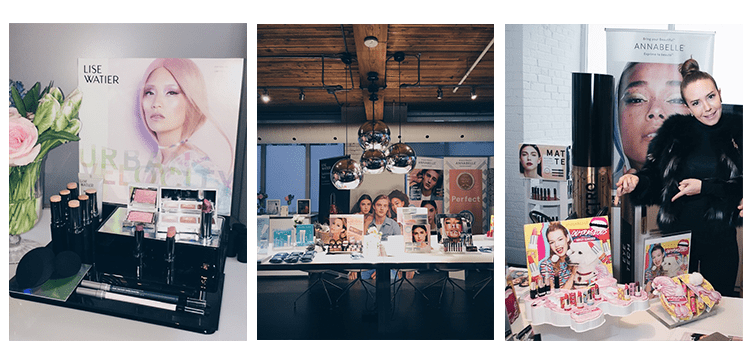 Makeup dominated the boardroom as beautiful new products for 2018 were displayed for guests to enjoy. Marcelle Cosmetics is releasing amazing new bronzing powders with shiny and matte finishes, as well as worry-free eye shadow for all skin tones! Introducing their new collection, Urban Velocity, Lise Watier's David Vincent showcased the new marbled blush, lipstick and eye shadow with spirals of modern and iridescent hues that blend together to give you a soft modern look. Annabelle Cosmetics brought a fun twist to the table, partnering with Hayley Elsaesser to create The Outrageous Collection, featuring bold and original colours that come in either creamy or sparkly finishes!
OGX set up shop with their new Stylers for 2018, including dry shampoos! There will be plenty more launches to come as they expand in the Canadian market, so look out! Maui Moisture also took part to showcase their vegan hair-care products, made with 100% pure aloe juice. Guests loved the Maui Moisture Color Protection+ Sea Minerals Collection!
Freshen things up with Origins Canada! Guests were easily impressed with their multi-action Willowherb-infused Original Skin™ collection to de-stress, refine, shrink pores and restore glow, leaving skin perfected and vibrant. This includes a matte moisturizer and a fantastic retexturizing mask with rose clay!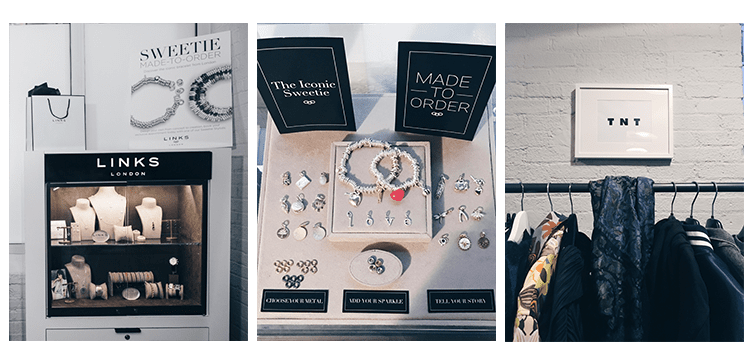 Links of London charmed guests with recently launched extensions to the iconic Sweetie Made-To-Order collection (new charms!) and the Friendship collection (new bracelet colours)! Links also stole the show with their beautiful new Splendour collection!
TNT – The New Trend showcased select pieces from some of the unique luxury brands they carry in-store, including the new Calvin Klein under Raf Simons, Acne Studios, Chloe, R13 and a number of other coveted labels you can't find anywhere else in Toronto. The brand also highlighted the amazing events and designer appearances they have coming up this year and into 2018 (Follow @TNTFashion for updates)!
Saje Wellness debuted some new products for your home! One of my personal favourite new arrivals is the aromaTime ultrasonic diffuser. New features include space for two tanks and a timer- so you can rise with an energizing blend and rest with a relaxing blend! It's about time, am I right?
Swarovski attracted guests with their sparkly new Rainbow Paradise collection – a collection where colour is at its most brilliant. From the golden hues of the Lisabel honey bee pendant to the summery shapes of the Lime bracelet, the Spring Summer 2018 collection features pieces perfect for every occasion – Valentine's Day, Mother's Day and Spring and Summer everyday wear!
Finally, all eyes were on the stunning artwork displayed by internationally renowned photographer, Florian Innerkofler. Taken around the globe, Florian presented a beautiful array of photography for everyone's enjoyment. Along with affordable prints, he also offers his work as phone cases!
The day was full of excitement as guests mingled and viewed all the exciting new releases. Make sure you browse these great new products; they'll surely put a spring in your step as the New Year rolls around!