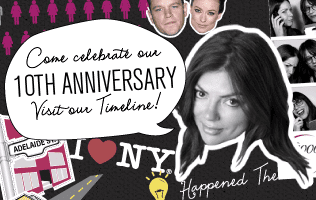 "Don't aim for success if you want it; just do what you love and believe in, and it will come naturally."- David Frost. 
I can't believe it! It's been 10 years since my namesake public relations agency, NKPR, was born. At the beginning, it was just me, Director of Operations Cat Richens and my newborn puppy Decoy, working out of my home. The goal was to create an agency that highlighted stories and issues that mattered. We received our first business license on June 12, 2002.
Since that date, our agency of two employees has grown to 30 incredible and talented staff members, with dedicated PR, talent, digital media and creative divisions!
NKPR's client roster has also risen, from two to over 31 exciting brands that we feel passionate to work on every day.
To celebrate 10 years in the amazing world of PR, we are thrilled to launch NKPR's timeline, a fun way to look at the agency throughout the years.
From the first client roster, two moving days, the launch of NKPR's digital media division, the opening of our New York City office and the IT Lounge that started it all, we invite you to share in our most memorable moments!
Stay tuned for an upcoming 10th Anniversary blog content and an exciting initiative that we can't wait to share with you. Hint: It's a sweet way for us to give back, an ongoing commitment that has always been fundamental to NKPR's core beliefs!
Thank you all for your amazing and continued support over the years. We wouldn't have reached 10 years without you!
XO Natasha and the NKPR Team