December 2, 2016, 2:07 pm
It's always better to give than receive. For the second year in a row NKPR's 26 Hours of Kindness initiative had the whole team giving back over 26 consecutive hours with acts of charity and random kindness throughout Toronto.  Thank you to all who volunteered to help and support!! In case you missed us, here's a recap of events over the 26 hours.
 Midnight – To kick off  the #NKPR26 initiative we dropped off  items ranging from kitchenware to bath essentials at Eva's Initiatives for Homeless Youth where all donations went to help rebuild the lives of vulnerable youth in Toronto. 
1am- Back at the office we assembled gift bags and treats for random nighttime acts of kindness to come.
2 am: The team surprised 26 lucky people waiting for the late night bus/streetcar with a free ride care of Beck Taxi's $26 cab chits. This act was especially meaningful for a group of musicians who didn't have to lug their gear all the way home!  
3 am: We received over 20 resumes submitted by students entering the workforce and reviewed each one giving feedback to help them on their search. Our top advice for job hunters: include a cover letter and email intro and don't overuse the jargon – keep it short and clear.  
4 am: With the support of PetSmart, we lined the fences of the dog park at St. Andrew's Playground with an abundance of holiday toys and treats for those early-morning risers. Happy holidays to our furry friends! 
5am: We surprised groggy voyagers at the Toronto bus station with goodie-bags filled with Flow Water , Kind Bars, gum, chocolate treats and other travel essentials for the long ride ahead – narrowly escaping security to brighten few peoples morning :). Thank you to Francesco's Limousine for getting us safely and comfortably throughout the city all night long!
6 am: Starting at Yonge and Eglinton, we rode the subway southbound, getting off at each stop to give to TTC station staff for always helping us get to work on time. Hot tea is a necessity for the chilly winter months ahead so, DAVIDsTEA travel mugs were given alongside Kind Bars for a snack.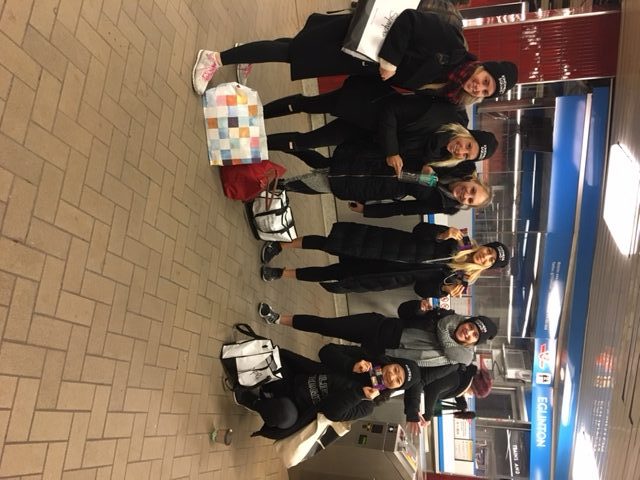 7 am:  Riding for a cause at Ultimate Athletics, we filled a spin class with NKPR staff and friends with all proceeds going to Save Our Scruff, Planned Parenthood, Southern Poverty Law Centre, NPR, and The Guardian. What a way to start your morning – Thanks, Ultimate Athletics!!
8:30 am: We surprised commuters with Kind Bars as we traveled to Sistering Organization to help prepare lunch and meals for the week. The Sistering Organization feeds over 400 women daily, also offering reclining chairs, computers, and a safe haven for any woman suffering from assault, abuse and poverty.  A huge thank you to Sympli, who also supported Sistering with a very kind donation of 20 outfits to women in need.
Noon: The team turned the NKPR boardroom into Santa's workshop and filled 26 shoeboxes with toys and supplies for Operation Christmas Child which provides the opportunity for children of all ages to receive gifts during the holidays. The team felt like little elves packing up these boxes!  A huge thank you to Spin Master, Gift Craft, Goody hair, Kind Bars for all your kind donations!
1PM: We then joined volunteers at The Good Shepherd Ministries for the lunch service. The organization feeds 1,200 people everyday also offering beds, clothing and additional services for all needs. After a brief tour, the NKPR Kindness Squad jumped on the lunch line serving up a warm meal to grateful clients.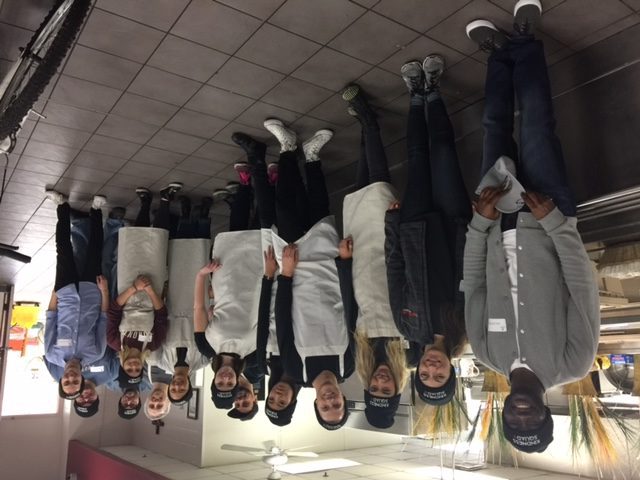 3pm: Armed with dabbers and trolls, we headed to the Salvation Army Gateway to host a game of bingo and help out to serve their dinner. The men had a blast and received prizes like gloves, hats, chocolate and Kind Bars.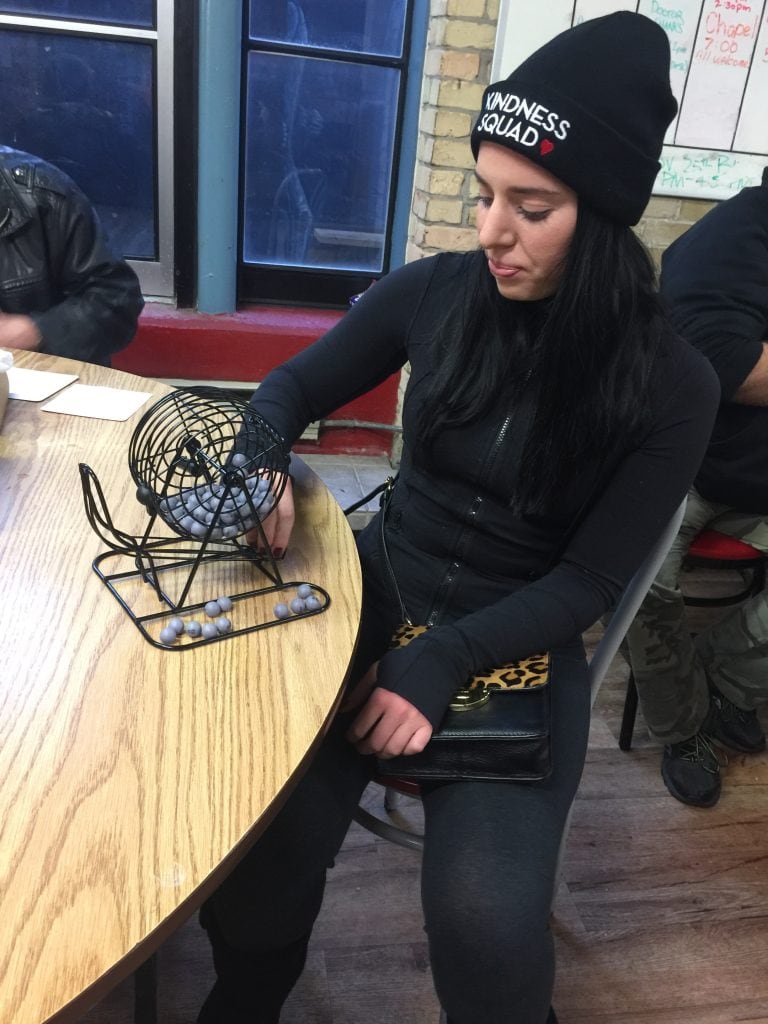 5pm The team took to the streets to perform 'random acts of tea' providing DAVIDsTea sachets and vouchers for a free cup on the cold day—also making sure to donate to the hardworking store employees on Queen Street West for Black Friday.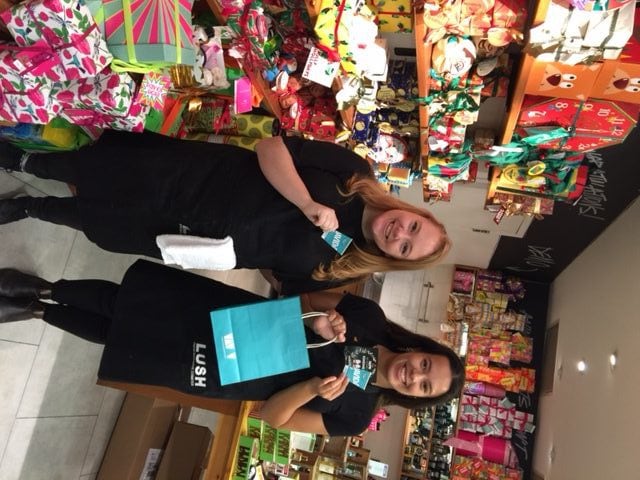 6pm: Our next stop was Fred Victor to drop off clothing donations. Fred Victor encourages long-lasting and positive change in the lives of homeless and low income people in Toronto. We also donated purses filled with Goody hair accessories, shampoo from OGX Cosmetics, McGreggor socks, and DAVIDsTEA gift cards to Red Door Shelter which provides services for families and individuals who need a safe and supportive place to go in an emergency.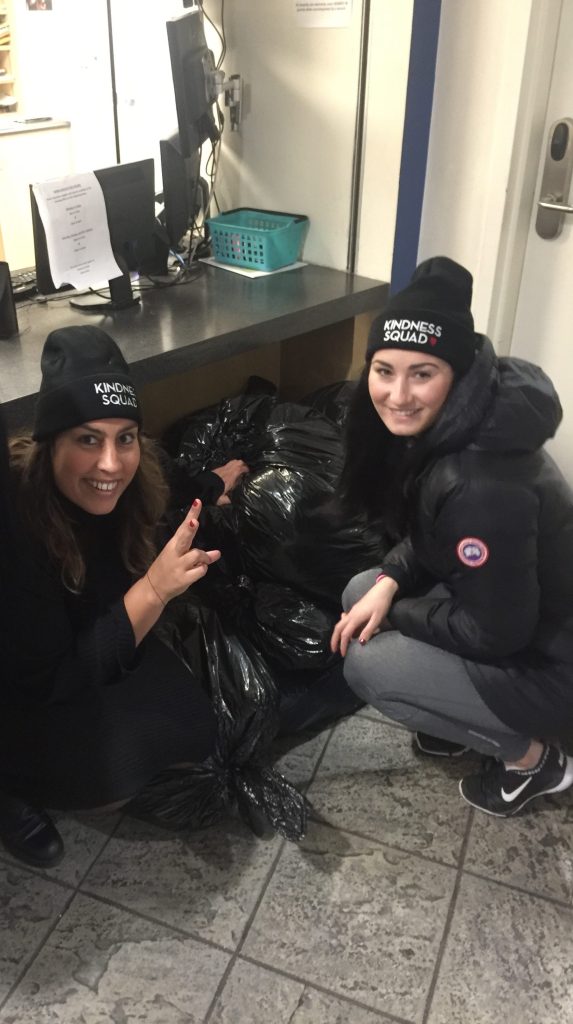 7PM: We then headed over to the Toronto Humane Society to drop off, treats and toys to the dogs and cats in need of adoption. The senior dogs loved the toy pig! It was an eye opening experience to see that so many dogs and cats need homes.
8PM: We stopped by St Michaels hospital and surprised the nurses with roses donated by our NK Artist, Caspar Haydar. While we were at the hospital, we met some people who looked like they could use some kindness so we gave them DAVIDsTEA gift cards and hugs!
8:30-11 PM: At the annual Distillery District Christmas market we gave out free carousel rides, DAVIDsTEA gift cards, and warm drinks! We made one couples' night when they walked up to the booth to buy tickets but turned around after seeing the price. The kindness squad saw what happened, stepped in and gave them free coupons so they could experience the fun! 
11PM: Once we finished spreading the kindness at the Distillery District, we headed over to Nathan Phillips Square for some carolling in celebration of Cavalcade of Lights. We even had a couple of choir leaders join in the festivities. It was so fun to connect with strangers in a fun and festive way!
Midnight – 2am: For our finale, the whole team came together for a kindness parade. We walked along King St and Queen St for causes that are meaningful to us using the Charity Miles app. The app tracks your distance as you walk in your daily life (to get coffee, to and from work, etc.) and gives back for every mile travelled. As we walked, we did a final push of surprise and delight giving out Kind Bars, Pizza Pizza coupons, and Tim Hortons gift cards as we walked.  
Even the smallest of acts can put a smile on someone's face. We loved interacting with people all throughout the city and doing our part to make everyone's day brighter—all in a days work for the Kindness Squad. Thank you to all of our sponsors and to all that came out to join us!