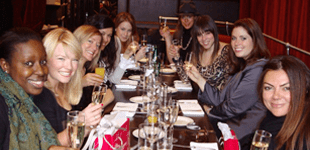 December 16, 2010, 3:53 pm
Yesterday was our office holiday party and Secret Santa exchange. It was one of our best celebrations ever! Everyone was in the holiday spirit and we had so much fun giving gifts and relaxing over a delicious lunch. Here's a peek:
Rebecca hiding her Secret Santa gift under the tree. Leopard print isn't usually the best camouflage, but no one was the wiser.
Sarah, Lisa, Jenna and Andrea all watch as Kristin opens the first Secret Santa gift of the day! Love the Santa hats, ladies!
Our creative coordinator gets three moleskin journals!
André gets three moleskin journals, too! Victoria is smiling because she received a necklace and bracelet that Jenna handmade. How amazing is that? My team goes all out!
Bunmi and her pretty pink unicorn. It's an inside joke — ask Bunmi about it sometime. 😉
A beautifully bowtied Aimee received skincare products from Kiehl's.
After the presents were unwrapped, we all headed to lunch at Le Select Bistro…
And yes, I'm finally in a photo on my own blog! (That's me on the bottom right.)
I've said it before and I'll say it again, I have the BEST looking staff! 🙂
What are you doing for the holidays? Tweet me at twitter.com/natashankpr
XO Natasha