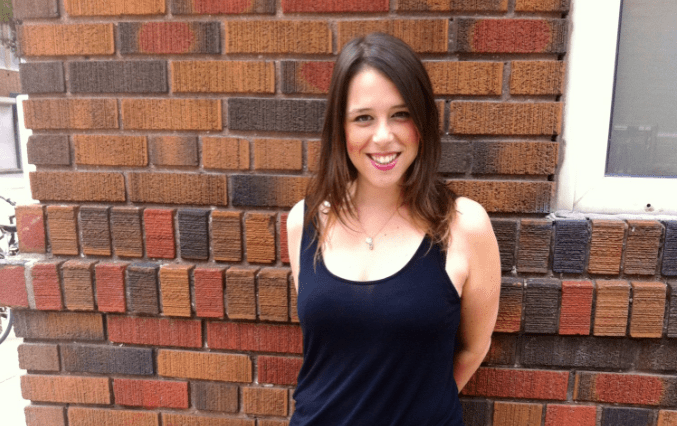 The latest office chatter? We sat down with Rebecca, one of our Account Executives  to chat about her experience working at NKPR, as well as some of our favourite topics of conversation (fashion and perfume, anyone?)
How did you get into PR?
I was studying communications at McGill and a professor did a presentation on jobs in the field. I saw a description of PR and immediately knew it was for me. I got involved with as many events as I could on campus, and following graduation, started the post-grad PR program at Humber. After an internship at Harry Rosen, I applied to NKPR and the rest is history!
 What's your favourite lunch spot in the area?
Every single day at 11:50 a.m. I call our local deli, Zupa's, to inquire about their soup of the day. They'll tell me on the phone if I'll like it or not, knowing that I'm always elated when it's chicken noodle or chicken rice. I like to think that I might be a local celebrity there. I always get extra crackers and am confident that one day they'll give me a Zupa's hat.
Describe your typical outfit at the office.
Black jeans, a white t-shirt or black top and a blazer. Sometimes a hat, sometimes bright lipstick, but always high heels.
 What beauty product could you not live without?
I swear by Kiehl's Ultra Facial Moisturizer and Crème de Corps and Malin and Goetz Peppermint Shampoo. I don't know if this counts as beauty, but I'm a chronic tooth brusher (probably because I find gum chewing so offensive), so I keep toothpaste on me at all times.
 Favourite scent?
For personal fragrance, I'm a Jo Malone girl. For daytime, I wear Nectarine Blossom & Honey. And for evening, I wear Pomegranate Noir. I always have candles lit in my apartment, and some favourites are Jo Malone's English Pear and Freesia, Dayna Decker's White Tuberose and Baxter of California's Tubereuse Noir.
 What's your favourite memory of working at NKPR?
A definite highlight would be working the APJ Red Carpet in 2010 – I spent the day with AnnaLynne McCord and for the evening, my job was being James Franco's handler slash umbrella holder. It was fun(ny).
 If you could shop any celebrity wardrobe, whose closet would you raid?
Ashley Olsen's. And maybe Harper Beckham's.
Favourite comfort food.
I love hot dogs, donuts, poutine and fried chicken. My palate is quite similar to that of an eight-year-old's.
Song you have on repeat.
We Can't Stop by Miley Cyrus.
The best accessory a girl can wear is:
I know the answer should be confidence, but I'm inclined to say a hat.
Favourite reality TV star of the moment?
I am not ashamed to confess my infatuation with the Kardashians. But of the bunch, I only really like Khloe. And Scott and Lamar, if they count.
Are you an introvert or extrovert?
While being in this job and constantly being surrounded by people has made me cherish my alone time, I think ultimately I am an extrovert. I'm not very…reserved.
Rebecca's Desk Essentials