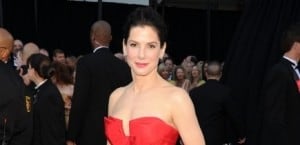 February 28, 2011, 8:47 pm
The fashion at the Oscars did not disappoint last night and the office was buzzing this morning! Here are some of the looks that my team loved.
Brittany: My favourite by far was Sandra Bullock in Vera Wang. Her stunning red dress with simplistic accessories was classic yet sexy.
Cat: Mila Kunis. It was really soft and feminine. Mila looked very relaxed almost like the dress was an extension of her.
Jenna: All of Anne Hathaway's dresses throughout the evening were great, even her tuxedo. Each one was elegant and she looked stunning. I'd love to wear any one of them!
Kristin: Mila Kunis in Elie Saab. Mila took a risk in this gorgeous lilac gown with lace detailing! Unique and beautiful!
André: Christian Bale. You can't go wrong with all black. Jennifer Hudson's red dress made a statement, too, since the colour was so vibrant.
Lisa: Mila Kunis. Her dress was gorgeous!  The colour, the ruffles, the cut — I loved it!
Kaley: I love everything about Anne Hathaway. From menswear to gowns drippings in crystals or beaded tassels, she is perfection. Yet another coup for the Zoe camp!
Rebecca: I loved Anne Hathaway's Lanvin tuxedo. I love me a girl in a bowtie!
Katy: Jumping on the Mila Kunis bandwagon! I loved the elegant cut and the pretty lace 🙂
Lauren: Jennifer Lawrence in Calvin Klein. The striking simplicity of the dress complemented her effortlessly beautiful blonde locks.
Sarah: Celine Dion. Because she actually looked comfortable!
Here are a few of my favourites:
Reese Witherspoon. Because she wore black!
Halle Berry looked gorgeous (although she would look good in anything!)
Mila Kunis: Stunning.
Penelope Cruz. She had that beautiful new mom glow!
What Oscar  looks were your favourites? Tweet me at @natashankpr.
XO Natasha