The Scotiabank CONTACT Photography Festival is kicking off next week with the official launch on April 29 at Toronto's Museum of Contemporary Canadian Art. Of course, everyone at NKPR is excited about the festival! So excited, in fact, that it inspired us to dig through our own photos for our self-shot faves. While we're all amateurs (except for Andrea who's pretty much a pro), I think all of these photos are really beautiful! An NKPR exhibition in next year's Scotiabank CONTACT Photography Festival, perhaps?? 🙂
Kristin: This photo is of the Pacific Ocean from the Vancouver Island ferry. I love it because the sun was setting and it was so pretty. Also, I am totally following the rule of thirds. (I think?)
Thary: I took this photo the first time I met my grandparents who live Cambodia. They own rice fields in the country, so this is pretty much their backyard.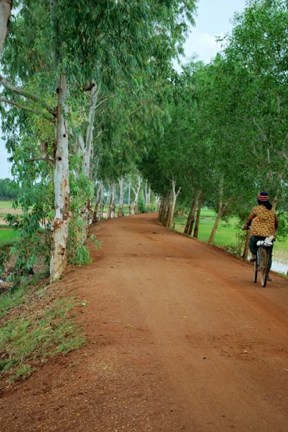 Brittany: Why I love my photo? It includes a beach, friends, and represents peace. What more could I ask for in a pic?
Andrea: The photo is of myself wearing a bear head. The piece explores the overlap between predator/prey relationships. I love it because of the framing and the lighting and that head is just pretty awesome.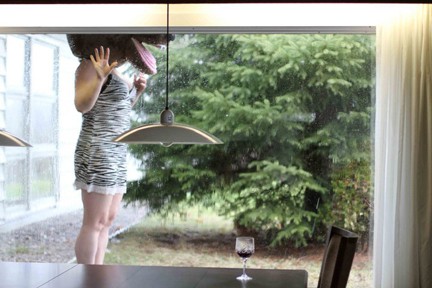 Emily: This is a photo I took of a monkey in Monkey Forest in Ubud, Bali. I love the contradictions in his body language. Those innocent eyes staring up at me while his razor-sharp claws dig into the tree. It's like he's trying to make me believe he's not bitter about getting the short end of the evolution stick. (He stole a banana from me immediately after the shot was taken, so revenge was his.)
Lauren: The black rock beach in Santorini, Greece. The most serene place I've ever visited. Looking at this photo makes me feel calm (even when I'm not…).
Kaley: A tall beautiful stranger tucks my note into a safe spot up high at the Western Wall, Jerusalem.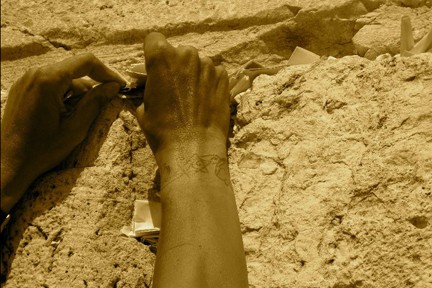 Rebecca: The photo is of Bondi Beach in Australia. I love it because it represents one of my favourite vacations and also because I think it's amazing that a beach could be that crowded on a weekday with no other special events going on. I also hate this photo because it reminds me that I don't live in a country where a beach could be that crowded on a weekday with no other special events going on.
Heather: This is my husband, showing off, during a bike tour around Versailles on our honeymoon. It's one of my favourites from our trip because even though we had just taken this seemingly giant step toward "adulthood," we clearly had (have?) problems bidding adieu to our 10-year-old selves.
Cat: I took this photo outside of the Stedelijk Museum in Amsterdam. It's my hand inside someone else's hand drawn on a pole. I took the photo really quickly because I felt self-conscious about touching a stranger's 'hand' in public but I thought it would make a good photo. I'm glad I took it because now when I look at this photograph I'm right back in that moment – feeling anxious but really connected to everything at the same time. It's like I was imprinting the universe on my hand.
Sarah: San Blas Islands in Panama — nothing but white sand and palm trees. It was the closest thing to paradise I have ever seen!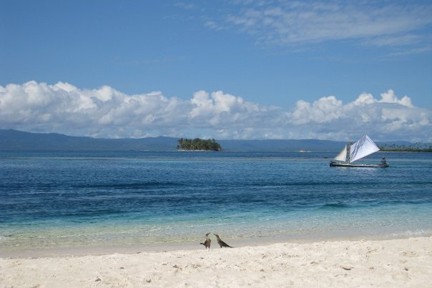 As for my favourite photos… I love this pic! I was so excited when I realized these were baked and had only half the calories… so I could eat twice as much!!! 🙂
And this one. I love my team!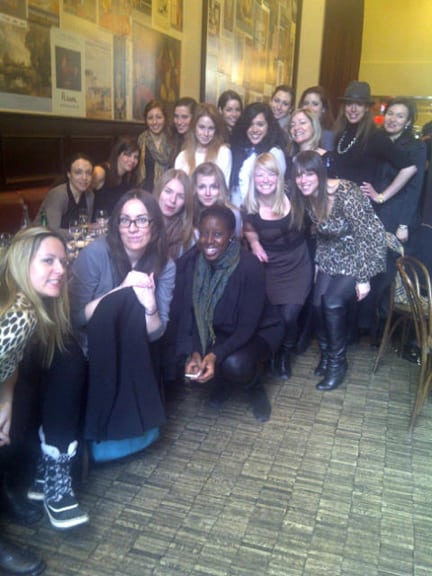 I want to see your best-ever photo! Tweet me @
natashankpr
.
XO Natasha