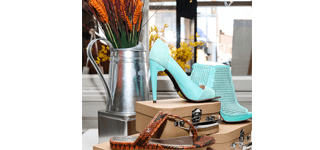 November 28, 2012, 9:03 pm
NKPR was hired by The Jones Group in 2011 to manage public relations efforts for Jones New York, RACHEL Rachel Roy and Anne Klein in Canada, with work ranging from product placement, event management, strategic partnership support, designer appearance events and social media integration.
SITUATION:
Designer Rachel Roy, was making a personal appearance at The Bay in Vancouver and Toronto to launch the Fall 2012 RACHEL Rachel Roy collection. In order to create a demand for the line and to drive sales, NKPR's role was to build buzz and excitement for the event while revealing Rachel Roy's favourite looks to media and consumers.
STRATEGY AND TACTICS:
In advance of Rachel Roy's appearance in Toronto and Vancouver, NKPR secured press opportunities and interviews for Rachel to build event pre-buzz. In Toronto, NKPR also secured national editors and journalists for a private luncheon with Rachel in advance of the evening's appearance. Broadcast interviews were also secured for the designer on Canada's top entertainment programs including eTalk, ET Canada and E! News. Notable Vancouver and Toronto fashion bloggers were dressed in RRR for both events, strengthening brand credibility and generating greater awareness for the brand in both the Toronto and West Coast markets.
In addition to blogger and traditional media outreach, an integrated social media strategy played an important role in creating excitement for Rachel's visit and encouraged fans to meet Rachel and shop the collection. Guests had the chance to enter and win a $500 RACHEL Rachel Roy shopping spree at The Bay at both events, which was collectively promoted online by Rachel Roy, The Bay and NKPR's social media channels.
RESULTS:
14,181,943+ impressions for Rachel Roy's Canadian appearances ($850,917.00 ad value)
Secured national editors and journalists to attend a private luncheon with Rachel incl: Elle Canada, FASHION Magazine, FLARE Magazine, Hello! Canada Magazine, LOULOU Magazine, Globe & Mail Newspaper, Chatelaine Magazine, Canadian Living Magazine, National Post Newspaper, Toronto Life Magazine, The Kit Magazine
Feature interview coverage in The Globe & Mail, ELLE Canada, Georgia Straight Newspaper, ET Canada, ETalk, E! News and product placement in FLARE, Globe & Mail Style Advisor Magazine, LOULOU, The Kit and 24 Hours (national)
Integration of #RachelRoyBayVAN, #RachelRoyBayTO and @Rachel_Roy tweets reached more than 500,000 Twitter users