September 20, 2023, 10:28 am
Recapping The 2023 NKPR ITHouse!
Since 2006, NKPR's IT House has been a celebrated fixture in the heart of Toronto's film festival culture, located in bustling Film Festival Central. This experiential media lounge offers a haven for media, talent, and VIPs amidst the TIFF excitement. As we bid farewell to our beloved office at 312 Adelaide, #NKPRIT23 marked the end of an era with a spectacular send-off, surrounded by friends, media, talent, and industry leaders, reminding us of what makes NKPR special.
IT House annually kicks off the TIFF season, welcoming Canadian talent and media to exclusive activations by esteemed sponsors:
La Mer: As the festival frenzy unfolded, La Mer partnered with us, offering complimentary skin analyses and rejuvenating treatments. Guests left with radiant, red-carpet-ready skin, thanks to this luxurious brand.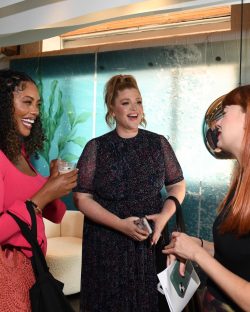 Melanie Lyne: For those seeking to make a statement on the red carpet, Melanie Lynne created the ultimate Film Festival dressing room. Their expertise in show-stopping style, accompanied by their latest designs ensured that every guest felt like a true star.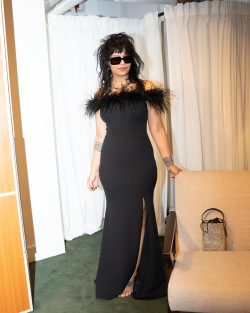 NARS Cosmetics: NARS brought a touch of Hollywood glamour to IT House with their glam touch-ups and complimentary makeup applications. It was the perfect opportunity to refresh and dazzle before stepping into the limelight.
SMEG: Staying energized is crucial during the festival frenzy, and SMEG provided a delightful solution with their all-new Fully-Automatic Coffee Machine. Guests enjoyed rich espresso, courtesy of 1.21 Coffee, keeping them fueled and ready for all the TIFF action.
No Sugar Company: To satisfy sweet cravings without the guilt, No Sugar Company provided sugar-free treats. These delightful indulgences fueled festival appetites (without a sugar crash!).
Patrick Assaraf: Fashion aficionados had the privilege of previewing Patrick Assaraf's latest styles, making sure they were dressed to impress as they stepped into the autumn season.
#NKPRIT23 officially closed the chapter in IT House's history at 312 Adelaide. This year's IT House was more than just a glamorous event; it embodied NKPR's essence—building connections, creating visibility, unveiling unique brand experiences, and closing out our long history at 312 Adelaide St. W. Surrounded by friends, media, talent, and industry leaders, IT House revealed what makes NKPR central to Toronto's film festival culture—a place where dreams become reality, and moments turn into cherished memories thanks to the magic of TIFF. As we say farewell to 312 Adelaide, we carry a treasure trove of memories and unforgettable moments. We look forward to our future in our new space at 682 Richmond St. W (Just a short walk from 312!), where we'll continue evolving, creating more glamour, elegance, and unforgettable experiences. Here's to celebrating film, fashion, and the extraordinary, with the promise of more memorable moments in the world of TIFF.
A big thank you to ALL of our sponsors:
La Mer, Melanie Lyne, SMEG, Patrick Assaraf, Tia Maria, Cookin, No Sugar Company, NARS Cosmetics, FLOW, Comeback Snacks, Candy Can, Phoenix Vodka, Trius Wines, Peroni, and Old Mill Cadillac!
Want to get involved with the NKPR ITHouse in 2024? Click here.