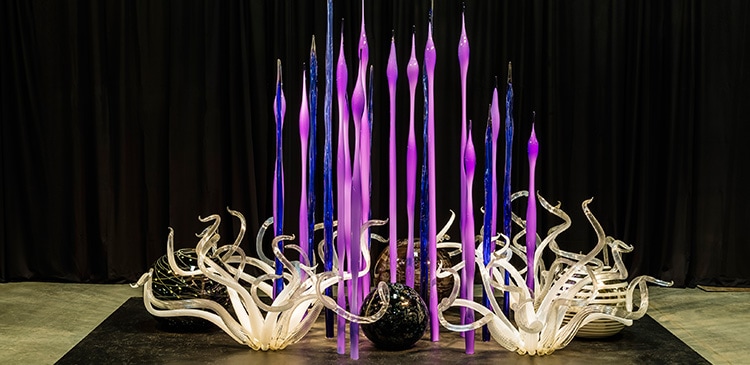 October 17, 2016, 9:04 pm
Canada's leading contemporary glass art dealer Sandra Ainsley, recently opened CHIHULY at Sandra Ainsley Gallery showcasing an exhibition of never-before-seen pieces from world-renowned American glass sculptor, Dale Chihuly. Presenting in Ainsley's newly renovated warehouse gallery space, Chihuly curated the show himself that includes a selection of large installations, pedestal pieces, chandeliers, and wall pieces, among others.
A true visionary in Toronto's gallery scene, Sandra is the longest standing Dale Chihuly dealer worldwide and has been working with him for almost 30 years. Bringing the artist to Canada for the first time in 1989, Sandra introduced Toronto to the artist with an exhibition in the Financial District's Exchange Tower. This exhibition marks yet another milestone and is Sandra's sixth Dale Chihuly show at her gallery.
One #insidenkpr's favourite pieces is the show is Chihuly's Ocean Wave Chandelier, The piece is so beautifully structured with so much character & fragility, conveying all the emotions of the ocean!
Scroll down for more pieces from the exhibition.
CHIHULY at Sandra Ainsley Gallery is on until November 12th. We highly recommend a visit!
SANDRA AINSLEY GALLERY
THE WAREHOUSE 100 Sunrise Avenue, Unit 150
Toronto, Ontario Canada M4A 1B3