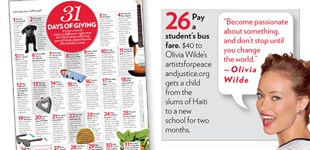 November 10, 2011, 10:45 pm
Too early to chat holiday? Doubtful. We've been planning since July.
The December issue of Glamour features their annual 31 days of giving, and we're paying special attention to day 26. A $40 donation to Artists for Peace and Justice will pay a Haitian student's bus fare to school for two months. [Glamour]
It will only be a few more weeks until holiday party invites start stacking up. Start planning your ensembles now. We like the one dress/fun accessories approach. [The Hip & Urban Girl's Guide]
And speaking of getting dressed, The Man Repeller's visit to Holts earlier this week had the city's harem pant set abuzz. We spotted a couple of familiar faces in recaps from She Does The City and Fashion Magazine.